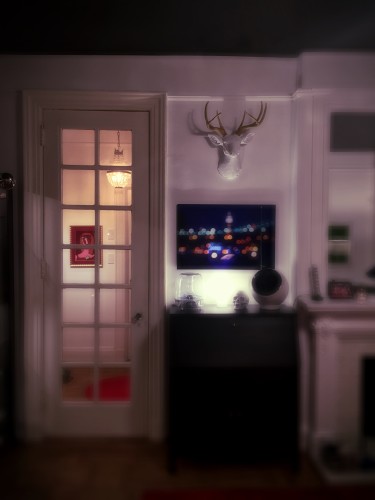 OK… So I know I promised that I would have a full reveal of the living room last week, and I shot a bunch of pictures with my trusty iPhone… But after looking at the photos, it was clear that they didn't quite capture what I was hoping to convey. Mea culpa…. Oy!
It was obvious to me that I needed to re-shoot the room and use a better camera to better capture the space. Add to that the fact that up until Saturday afternoon, there were still things being tweaked and adjusted in preparation for guests that evening.
Now that I am finally ready to re-take the photos, and put together the reveal, I need to wait until the light is right…. Which means you're gonna have to wait a bit longer… Sorry about that. I had hoped to re-shoot the room yesterday, but I was frankly too exhausted to set everything up.
In the meantime, you can get a sense of what awaits…. Albeit with a few tweaks not captured in these purposely hazy shots.