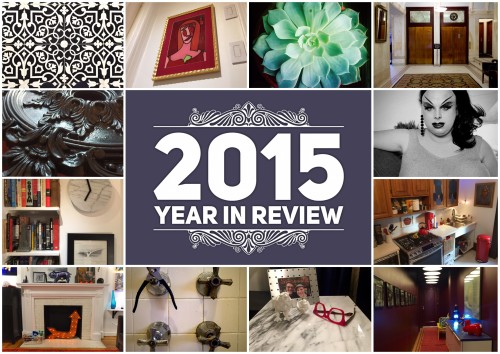 OK, I know…. You are probably tired of reading year in review posts and articles by now, but this one is important (to me at least) so pay attention, there is a quiz at the end, and a prize for the winner! 2015 has been quite a year for Yoav and me. We made huge progress in certain areas of our apartment, and fell way behind in others. As I was relaxing this past weekend, taking in the quiet moments in our currently clean and somewhat ordered home (before the chaos of renovation takes over our place in the next month or so), I looked back over the year and began to go through my posts to remember the changes. And changes were a plenty this past year. Whenever I feel like it is taking forever to get anything done, I just need to look back at where we were. Which in some ways is the entire point of my doing this blog, I wanted to document our process and share it with family and friends as well as anybody else who is curious.
Let's go back and see just how far Yoav and I have come since January.
January: This was a pivotal month for me. First, I wrote about my making the conscious decision to declare war on the status-quo and saying FU to mediocrity, as well as expressing my love for the color black, and my determination to put it to use in our home. Later in January, I wrote my most popular post yet when I wrote about my absolute devastation over the banal (made for the North American Market) offerings of IKEA's new kitchen cabinets. I survived, and ultimately we dumped IKEA cabinets for our new kitchen.
---
February: After learning about the disappointing new line of IKEA cabinets, we took a couple of trips out to the Elizabeth store for a looksee, and sure enough, while there were some huge improvements in the new designs, the ugly brown wood-grain was every bit as disappointing as expected. I spent much of the month trying to figure out my next steps. I also posted about my materialistic side and my love for our new marble clock from Crate and Barrel.
---
March: This was a big month with a lot of accomplishments, and momentum building. I started off with a post about our center hall "The Big Oops and the Big Fix" when I made a blunder and then a beautiful fix for our ceiling in the center hall. Then I got into the details when I elevated our look by adding new legs to our IKEA sofa and ottoman to make them look a bit less IKEA-ish. And then at the end of the month, was a two parter with the reveal of our living room ceiling. First, I revealed my embracing black as a player on the main stage by painting our our living room ceiling and the preparation or our ceiling medallion and the installation of our vintage 1960s Tronchi Chandelier I scored on eBay.
---
April: Another month of accomplishment with the completion of two spaces. In my post "The Big Oops and the Big Fix Part II", I revealed our first completed space and one of my favorite spots in our apartment, the Center Hall. And then after much anticipation, we finally revealed the living room. This was a big accomplishment as we finally have a room, which while not truly done, was at least a comfortable space to spend time in. I call this phase one of the living room, although phase two is not likely to happen for a while yet.
---
May: After all the work on the center hall and living room, we took some time to relax a bit, went on a trip to Michigan, and started plotting our next project. The only thing that got a mention in May was my love for our Componibili in our bathroom… Which, by the way, we are basically using as super fancy toilet paper storage. But it is a beautiful toilet paper storage unit, none the less.
---
June:
This was the month when I kicked off my first series about our plans for the kitchen, "
Meanwhile, Back in the Kitchen
". At the time, we had anticipated that we would begin the renovation in September/October… Of course, that didn't happen. And in the end, it turned out to be a blessing in disguise. In
Part I, I kicked off the series talking about my dreams and inspiration
for our kitchen.
Part II was all about cabinets and compromise
, and how I let go of my dreams of owning one of those amazing kitchens from the UK, primarily because I had no easy way to get one here from the UK, I found what I thought would be a good compromise (only to change it in November), and our love of Stiffkey Blue paint from Farrow & Ball.
Part III focused on my countertop decision
after looking at many alternatives. We chose white Carrara marble.
---
July:
Continuing my series "
Meanwhile, Back in the Kitchen
"…
Part IV was all about floors and walls
. I went into details about all of the different flooring decisions we made and then changed (and changed again), and also our plans to elevate ordinary subway tile to a higher level of elegance (which we also changed). I had plans for two more parts, and then the kitchen renovation was delayed again, so that is all I put out.
---
August: After regretting an eBay purchase, I found a way to salvage it and make it fabulous in an unexpected way. Then we resolved the endless drip, drip, drip, in our shower with the replacement of our decades old shower valves. At the end of the month, we celebrated one year of ownership of our half classic six.
---
September: Another big reveal! After putting the final touches on a project we had been keeping under wraps for the previous couple of months (to all but a few who had the fortune to see it in person), we revealed our Divine Entry Gallery. Part I was all about the transformation of our long and uninspiring entry hall into a spectacular and dramatic entrance to our home. Part II revealed our amazingly Divine Entry Gallery with details about the lighting and other elements.
---
October:
When I mention to people that we live in the larger half of what was once a classic six, I nearly always get a puzzled look. So, I thought if fitting to do a post about "
How did our apartment become a half classic six?
. The post is less about what a classic six is (
you can find that here
) and more about the backstory of how our building along with a majority of classic buildings in the area sliced old large family sized apartments into small easier to rent one and two bedroom apartments. Included are links to lots of other good reads besides my blog about classic New York Apartments. Later in the month, our hall was included in a
contest on Apartment Therapy and I shilled for votes
. We didn't win, but that wasn't important, of the 92 entries in our category, we still got 117 votes, which put us well over the 50
th
percentile…. That makes our place better than half? Right? Besides, I know my taste is more than most others can handle in their homes, and I am at peace with that.
---
November: This was a pivotal month… It started out by my discovering Barker Cabinets, which then caused me to completely rethink the kitchen. Suddenly, all of my IKEA/SemiHandmade plans were out the window and we were moving in a whole new direction. Once that decision was made, I was then faced with another challenge in finding a range hood that for the most part doesn't exist, and then finding a Unicorn solution.
---
December: I started the month off with an updated video tour of our place, 15 months after we moved in. Then after more than a dozen changes to our plan for the kitchen floor, I revealed that we decided to fulfill our dream and go with the floor that makes our hearts sing, even though it will end up being the most expensive thing in our entire home. This post lead to my starting a new series, "The Final Kitchen Plans – Finally", where I am declaring that we have finally made our final decisions on the kitchen renovation. Part I was about floors and walls with an unexpected change in plans for our walls. Part II was about cabinets and countertops with an update to our plans. Part III is about hardware and appliances and deciding that mixed metals do work.
---
This brings us up to this post today. I will post more of my series, "The Final Kitchen Plans – Finally", next week when I will reveal the lighting plan and then delve into our space planning. I will also do a post later in January on our budget.
As for 2016…. We plan to begin demo on our kitchen within the next six weeks. I plan to do regular status update posts as frequently as I can along with some DIY how-to posts explaining my process. I hope you will stay tuned, and if you haven't already, you can subscribe to my new posts by email! It is super easy…. Just enter your email address in the subscription box in the left column. I promise I won't spam you!
CONTEST CLOSED – CONGRATULATIONS ANDRA N FROM FITCHBURG, WI! 

And now for that quiz…. There is a prize… Have you been keeping up? All three questions are answered more than once on this site over the past twelve months.

Question 1: What location was the inspiration for one of our major color choices of the year?

Question 2: One of our favorite paintings features a "lady of the evening". What did we name her?

Question 3: What alternative use did I find for marble pastry boards?

Prize: $25 Amazon Gift Card (For reals!)

To enter: Visit my 2015 Year in Review quiz page, enter your answers fill in a few other blanks and click submit. Answers can be submitted through Midnight EST on Friday, January 8th, 2016. Rules and fancy talk can be found on the submission page.
Till next time… Happy New Year!