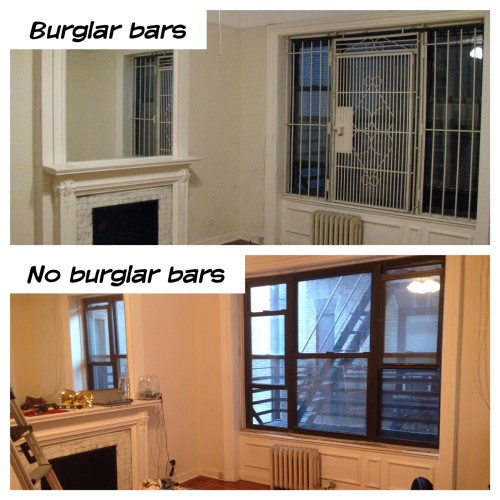 Well it has been eight days since we closed on our dream home, and the dreams are quickly (as expected) turning into reality. It feels like a lot has happened, yet if also feels like nothing has happened, as we begin to scratch the surface of all we want to accomplish at the new apartment.
First some good stuff…. The night of our closing, we had a few close friends over to christen the apartment with some champagne (which never actually got opened) and such. It was a small group, but fun none the less. It was also great to share in some wine and general happiness as Yoav and I gave tours and explained our plans, hopes, and dreams for the space.
Also, in the past week, we have met several neighbors and they all seem quite lovely! From our next door neighbor who has been there since the 90s, to the new family which moved in across the hall just last month, to the friendly people we meet (and whose names we can't remember yet) in the elevators, the whole building just seems to be a very friendly place filled with a real sense of community.  Having lived in buildings where you hardly acknowledge your neighbors even exist, this is very refreshing for both of us and we look forward to being a part of our new community.
As friendly as the neighbors are, the building staff has equally been very welcoming and accommodating. It takes nine people to staff the building, from the doormen, to the porters, to our quintessential super (all men, not popular career paths for the ladies). It will take a while to learn their names, and I won't likely see the overnight staff often, but it is comforting to know that there is somebody on staff 24/7 to keep an eye on things, sign for packages, clean and sweep the halls, empty the garbage cans on each floor, handle resident needs, etc…
Having brought up building staff… For my readers unfamiliar with life in Manhattan, it is very common to have full-time staff at large apartment buildings, and not necessarily a mark of wealth or status. The mark of wealth and status is living in a "white glove" doorman building, where in addition to an actual doorman standing at the door in white gloves for the purpose of opening the door for you as you approach, there are multiple people on staff at the same time to attend to the needs of the residents. We by no means live in a white glove doorman building, in fact, during our house-hunt, we encountered a couple of buildings which had such door staff, and it felt uncomfortable having somebody who's job is to just open the door and tend to our needs. That's not the kind of people we are. Our doormen will open the door for you, if he happens to be at the door, but usually he is sitting behind a desk, screening visitors, calling up to residents to announce then, handling packages, and keeping a vigilant eye on the place. Our porters are there to keep things clean and tidy, sweeping, mopping, handling the garbage, etc. Then there is the superintendent, aka "the super", he is the real point person on staff. For the sake of my blog, I will refer to him as "Patrick" or "Patrick the super" (as you may have guessed, Patrick is not his real name). First of all, as in most buildings, Patrick lives in the building (for nearly twenty years now), and his job is to know the building inside and out, better than anyone else. He oversees the management of all of the maintenance and cleaning and all other staff report up to him. Patrick is the person who you need to rely upon to get things done. Sometimes (as with all staff members) it is helpful to "grease the wheel" a bit to get things moving along. Thus the general nature of living in a doorman building.
Now back to this past week…. The good continued with the successful removal of the burglar bars in the living room. The living room window faces a fire escape, and back in the bad ole days of the 1970s and 80s when the neighborhood was riddled with drug addicts and hookers (compared to the utopia it is today), break-ins were a reality. Fortunately times have changed. When our super was in our unit for a reason I will get to next, he noted that there were only a few units left that still had the burglar bars, and given that they have not had a break-in in the 20 years he has been there, they probably are not necessary. Yoav and I removed the extremely heavy bars by Sunday, soon they will be  but a memory.
More good happened when the floor guy came to do an estimate. He was very impressed with our 100+ year old floors and a bit shocked to find out they were originally an inch thick (3/4 inch was the standard in the day). He also made the discovery that the mahogany borders in the bedroom are veneers (there are areas where they are were previously sanded away, and more will likely be sanded away when we refinish the floors again) whereas the mahogany borders in the halls and living room are actual inlaid wood. Interesting that even in 1910, developers cut costs and value engineered to increase profits. We are looking forward to having newly re-finished floors in about two weeks.
Now for the ugly…. The kitchen was originally a bedroom, and under the hideous peel-n-stick tiles is the very same oak parquet floor as the rest of the apartment. Our plan was pull up the peel-n-stick tile (expecting it wouldn't be as nice as the other rooms and also not wanting the same floor in the kitchen), have the floors sanded, paint the floor (which would have been entirely appropriate for 1910). In preparation for pulling the tiles, Yoav and I did some exploration in front of the kitchen sink (an area I was a bit concerned with) by pulling up a couple of tiles. Turns out my concern was valid. Under the tiles directly in front of the sink the floor is soft and spongy, indicators of a long term unattended leak which has led to wood rot. So, sanding and painting the floor are no longer a viable option.
When we first saw the apartment, we had dreams of jumping in right away and gutting the bathroom and kitchen to bring them up to modern-day standards. Then reality set in when we discovered that the building only allows two major renovations to occur at once (so as to not overtax the staff and others). We knew of two currently in progress and then found out about two more in the pipeline that were set to begin after they current ones were done. Realizing we would need to get in line to do our reno, it suddenly made sense to hold off, move in, and make do for now. Then make plans to redo the kitchen and bath after having lived in the space for a while, prepare our plans, and then get in line. It could take a year or more to get to that point.
Back to the ugly and then the surprise… Upon realizing that we could not just sand and paint the floors, and that the dry rot extended under the current sink cabinet, it dawned on us that if we were to fix the floor, that meant the sink cabinet would need to be pulled. Well…. If we pull the sink cabinet, why not replace it with a new one? And for that matter, if we pull the sink cabinet, why can't we pull all of the cabinets and replace them all? BOOM! Overnight we were back to square one with a renovation plan… Almost….
Again reality settled in… We cannot do a full renovation…. We can do updates, so long as they remain within the existing foot print of the kitchen and don't involve changing the plumbing, electrical, or gas line. So, this means that we cannot change anything, or add anything, including my desperately wanted dishwasher. While it may not be the kitchen of our dreams, we have decided to install a new kitchen we can live with for a few years, and then when we are better prepared, do the full on renovation we dreamed about.
You might be thinking that last paragraph was the unexpected surprise…. Well it sorta is, but the real surprise came when Yoav met with Patrick the super to show him the rotten floor and get his approval to do a cosmetic update. Patrick had no problem with us replacing the existing kitchen with all new cabinets… But he was perplexed when he asked about why we were not going to install a dishwasher. Yoav was perplexed by what Patrick said, and responded "But don't we need to go through the board approval process to have a dishwasher?" Patrick's response… "Aaaaa, You don't need to do all that!"
Stay tuned…. The next post will be about the unexpected kitchen plans!