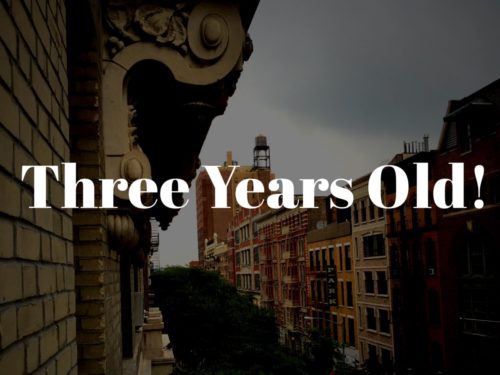 Today marks three years since we signed the contract for our apartment and three years since I started this blog to document our experience. It had only been a few weeks since our Manhattan Real Estate Shotgun Wedding, and were so very excited (and grateful) to have found our gem, a nice sized one bedroom apartment on the Upper West Side of Manhattan. Looking back at our hopes and dreams for our home at the time, I am happy to say that some of these have become more than true, some of them still have a ways to go, and some of them were just plain crazy (we somehow magically thought we could renovate the kitchen and bath before moving in). With that said, I think it is the perfect time to take a look at what we've done and what is next.
If you were around when we closed on the property in August of 2014, I did a walk through video of our place within an hour of arriving home for the first time after we closed. We aren't the first owners to occupy the apartment, but we were the first to show the love that the apartment deserves and the first to be completely determined to make this our home.
On the day of our closing it looked very much like the rental unit it has mostly been for the past 100+ years.
From the heavy security bars on the living room window (a relic from the dangerous 1970s) all the way down to our landlord chic kitchen and the dozens of layers of paint over everything.
We started out by having the floors sanded and refinished before moving in, and then after moving the contents of two apartments into one, we began the transformation. First, after having to have the kitchen floor repaired due to water damage, we created a temporary kitchen to get us by until we could plan and then dive into the transformation of our dream kitchen.
Then we went to work on getting the living room pulled together. First I made the bold move of painting the ceiling black and added a medallion and an amazing vintage 1960s Italian Tronchi glass chandelier I scored on eBay. That combined with the bright white walls and bold red rug set the tone of our living room.
While working on the living room, I also completed one of my favorite spots in our apartment, the Center Hall.
This lovely hallway connecting the living room to the bedroom, bath, and kitchen is wonderfully proportioned and has a beautiful coved plaster ceiling accented by an adorable French basket chandelier I found on Etsy.
With the living room revealed and center hall out of the way, our next focus was on our entry hall or as I prefer to call it, our entry gallery. This twenty-two foot long nearly four foot wide hallway was a huge selling point for us when we purchased the apartment. We loved that it made for a wonderful entry into our home as well as providing a nice buffer between our private space and the elevator lobby across from our door. We really don't know what is going on in the outer hallway because we are so far away.
For the entry gallery, we chose a deep dark raspberry color, and I hung eight large factory style lamps at about 84" above the floor creating an enveloping and dramatic feeling upon entering our home. (See reveal here)
The idea was that our visitors would sense they were being transported somewhere special when they came in. I think we pulled it off.
In January of 2016, after a short break from doing other projects, and after more than a year of obsessive research and very thorough planning, we next dove into the biggest project I have ever undertaken… Gutting and rebuilding our landlord(ish) temporary kitchen, and transforming it into our dream kitchen.
We began by pulling up the original (and badly damaged) oak parquet floor one piece at a time. It took the two of us six full days, filling seventeen construction bags of debris to get down to the original subfloor where we did some minor repairs, ran a tube for the water line to the refrigerator, and laid down a new plywood substrate to prepare for the Floor that Made our Hearts Sing.
The new cement tile floor was one of the few things we hired out to professionals, and boy are we glad we did. It was the most expensive element of the kitchen and we have zero regrets (even though it was a full quarter of our budget). We ended up (arguably) with the most beautiful floor in our building of 102 apartments. Seriously, the floor is not just amazing, it's f*cking gorgeous!
With the floor down, I began working on (or rather engineering) the beadboard walls and the painting and priming of our Barker Cabinets. By ordering the cabinets unfinished, we were able to choose our own color which was Farrow and Ball's Stiffkey Blue, a color decision we made during the summer of 2015 (remember that post?).
Priming and painting the cabinets was a monumental task (one that I am not sure I would recommend to anyone but the most diehard of DIY'ers) which took much longer and was much more work than I anticipated. In the end, I ended up priming and painting more than 150 individual cabinet components, most of which needed to be painted on multiple or all sides.
After five months of working on the kitchen every weekend while working my full time job (along with a couple of weeks of PTO), we finally got to the point where we could measure for our marble countertops and I could order the glass for our upper cabinet doors.
Our countertops were installed in late-June, and I set the goal of having an unfinished but functional kitchen (at least on one side of the room) by July 4th, and I managed to accomplish just that, including the installation of the glass cabinet doors.
One side of the room was basically done, the other side where the microwave and refrigerator were planned was still to be started. It was at this point that I began to run out of steam. With the exception of a four day mini-vacay in Seattle, I had spent every single non-working day doing something related to the kitchen for nearly six months. In addition, my workload got heavier. I realized while we were on our annual week in Provincetown that I was more exhausted than I had been in years. I needed a little break.
After a break of two months, I got started on the beadboard on the other side of the room in September, and got the base and upper cabinets installed in October. By then my workload had gotten even heavier with staff shortages and new responsibilities. I grew even more exhausted and what was supposed to be a six month renovation was turning into a much longer endeavor.
After the November elections, my mood shifted and so did our priorities. It is at this point where there was an obvious slowdown of posts here, and I can tell you that although progress continued, it was embarrassingly slow.
Over the past six months, I have managed to get the kitchen about 98% complete. It has been more work than I envisioned and we spent about 25% more than we originally wanted to due to my obsessive desire to get it right (such as our decision at the last minute to add a fancy edge detail to the countertops, and my not factoring in the cost to cut the hole for the under-mount sink, as well as a few other change ups).
It took over our lives and our home for the greater part of a year and a half. I haven't done a full reveal yet because we are still using a corner of the kitchen as storage while I am working on other projects (I promise it will come, seriously, but in the meantime, I did post a few pics of our awesome storage solutions and of the kitchen in April).
What's next? Well, I have started working on the crown molding in the living room, and once it is finished and painted I will do a reveal post on that. Then we plan to paint the bedroom and bathroom, and finish up a few minor projects. After that… Well let's just say, more to come.