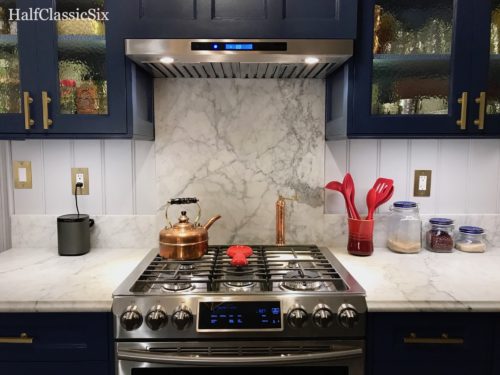 OMG! It's finally done! Really! It's more than a year later than we wanted, but I am grateful to say that I have finally finished our kitchen and it is spectacular! It has been sitting at the 98% completion mark since this past spring, but we finally managed to get the last of it done and, for the moment, we can relax.
Before I get to the reveal, let's go back and take a look at what we started with, and what we did to get to where we are now. [Warning: This is a bit of a long post…. If you just want to see the pretty pictures, then you can click here to skip to the reveal.]
In the year prior to finding our gem of an apartment, we had gone to more than 50 open houses where we quickly learned and refined what we liked and what we didn't. Most important to us was that the space must have good bones to begin with. A banal space will always be a banal space, no matter how much lipstick you put on it. When we saw our apartment, it was clearly a fixer-upper, but the underlying bones were amazing. Fortunately for us the tattered condition was such that it scared most people away.
The kitchen was in the style of what I like to call Landlord Chic. It featured random ugly mismatched cabinets from a big-box store, beige laminate countertops, beige peel-n-stick floor tile and a white stove and refrigerator from a different era. But it also had something we had not found before…. Space! At 11'x13' (plus two closets), it was huge for a Manhattan apartment. The reason it is so large is because, in 1910, it was a bedroom. When they split the large apartment in two during the middle of the last century, they converted a bedroom into a kitchen. How lucky for us?!
The planning began in our heads before we had even taken possession of our apartment. We soon learned that if we kept the sink and stove in the existing location, we could avoid going through an in-depth review process with our co-op board because we were simply replacing what existed without moving any plumbing or gas supplies.
So initially, I thought we should just do a stylish but economical kitchen using IKEA cabinet frames and custom doors from Semihandmade topped with quartz counters, subway tiles on the walls, and a hexagon tile floor. But, then as I got serious about the design and planning, our ideas shifted and transformed into a very different kitchen altogether. I had developed a love affair with classic British kitchens from the likes of DeVol, Plain English, and Naked Kitchens. I loved how simple they were while being elegant at the same time.
Having fallen in love with classic British kitchens, I decided that gray was too boring for us and I stumbled on an amazing shade of blue (No. 281) from Farrow and Ball. Good-bye dark gray cabinets, hello
Stiffkey Blue
! This beautiful tone of blue derived from the color of the mud near the village of Stiffkey (pronounced Stewky) in the UK then became the basis for all other color decisions in the kitchen.
We ordered a sample door from Semihandmade and painted it Stiffkey Blue. Next up was finalizing the IKEA cabinet layout. But after months of trying to force the limited sizes of the IKEA cabinet shells into a cohesive layout that worked with our existing plumbing and gas lines, I became increasing frustrated that I could only come up with plans which resulted in awkward and/or impractical design. I then turned to the internet where I accidentally discovered Barker Cabinets and everything changed again. Barker Cabinets sells solid furniture grade plywood shells and solid wood doors, but what made them truly special was that I could customize the cabinets in height, width, and depth resulting in a truly custom kitchen that fit perfectly without moving any supply lines.
After debating countertop materials, the practical and beautiful quartz countertops which we initially wanted felt too modern for the space. I had been leaning towards Carrara marble, but there are so many dire warnings out there about why you should not use marble for kitchen countertops. Warnings be damned, we decided to take the risk and went with the timelessness of honed Carrara marble.
Next thing to rethink… The subway tile on the walls. Everywhere I turned, I was seeing subway tile on kitchen and bathroom walls (this was 2015), and although I was planning on installing the 3×6 tiles in a herringbone pattern, I was feeling like subway tile was becoming far too ubiquitous. Simultaneously, I was dealing with the fact that our walls have no studs! As was common for high-rise construction in 1910, our walls are plaster over soft gypsum blocks for fire proofing. This makes for a solid wall, but it makes attaching upper cabinets a real challenge. When looking for a solution for how to securely mount the heavy upper cabinets I found it in those stunningly beautiful British kitchens. Bead-board! By covering the walls behind the cabinets with ¾" tongue and groove bead-board which was bolted through to the other side of the wall I was able to create a very secure and solid way to attach the upper cabinets to the wall. I also had a beautiful, traditional, yet practical way to cover the walls around the whole room.
The last material to be challenged was the idea of using a simple 2 inch hexagon floor tile in white with black accents. The hex tile looked lovely, but it became overshadowed by these absurdly gorgeous (and absurdly expensive) black and white handmade cement floor tiles from Villa Lagoon Tile. (Note: our kitchen floor is featured on their website!) At more than four times the cost of the hexagon tile, we found ourselves revisiting them online frequently. Every time we pulled up the website, our heart rates increased and our desire for them grew stronger and stronger. Then budget be damned… Bye-bye hexagon floor tiles… Hello glorious black and white cement tiles from Villa Lagoon!
With all of our materials finally selected, we began to place orders for materials and, in early 2016, we dove headfirst into renovation mode. We first spent six grueling days pulling up the old damaged oak parquet flooring, and preparing the subfloor for new tile. Then we waited for eight days while the tile pros first cut and dry fit the entire room, then set the tile, applied grout release, and finally grouted and sealed the floor. The results?
I then took as much time off of work as I possibly could and started installing the bead-board walls, priming and painting the more than 200 cabinet components, and finally assembling and installing the cabinets.
By early June, we were took delivery of our honed marble countertops, I installed the sink and stove and then installed the textured glass in the upper cabinet door frames and we had one side of the kitchen essentially finished. But the other side was still a construction mess as shown in my panorama view below taken in July of 2016.
Finally the kitchen was back to being functional (if incomplete) and the fruits of our labors began to show. Then life got in the way and the time I had for working on the kitchen became much more limited, but I kept at it, bit by bit. By late fall, I managed to get the cabinets up on the other side of the room, and in the spring of this year I completed the bead-board wainscoting around the entire kitchen.
At this point, the kitchen was about 95% complete but again life got in the way and it sat all summer waiting for me to finish painting the closet wall and install the doors. Now that you have the back story, I am excited to say that the closet doors were installed at the end of September and everything on my checklist has been done.
So, now that it is finally finished, let's take a look at some pretty pictures!
Scroll down…… (Hint: click on an image and it will open in a slide show.)
So there you have it! Our dream kitchen is finally finished!
In the end, it took about 20 months to complete our kitchen (about eight months of real work on my part). We hired out the floor installation and the countertop fabrication, but I did nearly all of the remaining work using vacation time and on weekends while maintaining a full-time professional job in IT. My workload as well as other life events got in the way as well as periods of absolute exhaustion which slowed me down. But the biggest delay in getting it done is that I am more meticulous (read "anal retentive") than most others and I strive to achieve a higher level of finish quality than most people would ever care about. I wanted to do everything right, and to the best of my ability. I also wanted something you would never be able to buy from a store.
For those who are curious about cost… Our final estimate before we got started was that it would cost around $35k. In the end, we wound up spending closer to $40k, which is really very reasonable for a Manhattan kitchen renovation. Had we hired this out, it would have easily been double that given the level of detail I expect, and I am certain it would not be as nicely finished. One huge benefit to doing the work yourself is that in the process of doing it, you discover ways you can refine what you are doing and take things to a higher level. Do I have any regrets? Absolutely not! It may have cost a bit more than we wanted it to, but the beauty of it more than makes up for what extra we paid.
Sources:
Floor tile, Gypsy Black and White from Villa Lagoon
Cabinets, Barker Cabinets
Countertops, Honed Carrara Marble from a Big Box Store
Cabinet door glass: Wholesale Glass Online
Cabinet hardware, Lewis Dolin Bar Series
Bead-board, Custom milled by Starke Millwork
Sink, Sinkology
Faucet, Delta Trinsic
Custom drawer inserts, Orderly Drawer
Under-cabinet lighting, Loox Series via Rockler (Discontinued)
Interior cabinet lighting, Amazon
Appliances:
Paint colors:
Cabinets, Stiffkey Blue, Farrow and Ball (281)
Bead-board/Trim, Sidewalk Gray, Benjamin Moore (2133-60)
Walls, Chantilly Lace, Benjamin Moore (OC-65)
Ceiling, Tundra, Benjamin Moore (2133-70)
Side note: I wrote the entire post last week and was very happy with it, and then somehow I didn't save it. This is the rewrite from my memory.
SaveSave
SaveSave
SaveSave
SaveSave
SaveSave
SaveSave
SaveSave
SaveSave
SaveSave
SaveSave
SaveSave
SaveSave
SaveSave
SaveSave
SaveSave
SaveSave
SaveSave
SaveSave