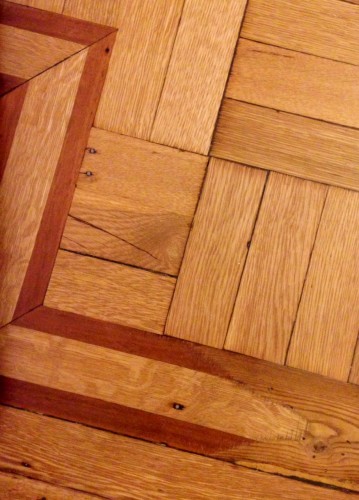 [Photo: Detail of bedroom floor. Unlike the living room and hallways, the mahogany border is only a veneer in the bedroom and you can see where it has worn away in the doorway  on the lower right.]
The floors are finished! Woo Hoo!!!!!
Well, not so much in the kitchen, but that will be an entirely different post… I came home from work last night and Yoav and I got to finally get a good look at the results.
They really came out beautiful, and we are very relieved to be at this point. Bottom line…. The floors had to be done before we could move in because this is the only time the entire apartment would be empty, and trying to do the floors while living there would be a nightmare… We selected "Fruitwood" as our stain color (how appropriate, yes?) and then sealed the floors with Bona Traffic, a commercial grade floor finish (often used in retail stores). The chose a satin finish, the slight sheen enhances the look of the floors and gives them an appropriate feel for 100+ year old wood.
That said, it was a somewhat cumbersome process to get everything coordinated to make it happen (we expected them to be finished about 10 days ago). There were a lot of people involved, and delays outside of our control made it downright exhausting at times. This was also not exactly an inexpensive job, however it was important to have them done right, by a company that had a lot of experience with old floors. In the end… Worth every dollar.
Take a quick tour of the new floors shot last night only minutes after our first look.
I'll be back next week with my first new post from our Half Classic Six. Stay Tuned!