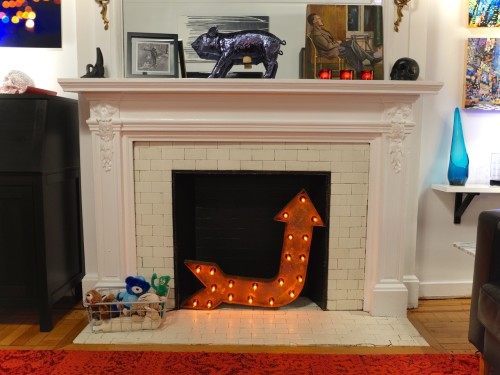 Last week marked a one year and a lot of change since Yoav and I sat down at a table with a group of disparate people, all with one common interest of varying degrees. Our mission, transferring the ownership of our apartment from the sellers to us, the buyers (or really our bank). Like most everything in New York City, nothing can be simple or cheap. It takes a lot of people to make such a transaction occur. Aside from the two of us, there was the seller and his father, our attorney, the seller's attorney, the bank official, the managing agent from the buildings management company, and the real estate agent who sold us the property. That is nine people in all folks, and if we had used an agent to purchase the place and had the sellers had an outstanding mortgage on the property, they would have been there too.
Still, nine people is a lot of folks to get together, all in one place at an appointed time in Midtown Manhattan. The closing only took about 90 minutes, which is very fast for NYC. Signatures were flying onto a copious numbers of documents, most of which I have not a clue what they were for, and checks were written and handed out. Fortunately for us, all went rather smoothly and without any real hitches. During the course of this time, we met the seller for the first time after more than three months since our offer was accepted. And at the end, we walked away with a set of keys, 30 years of mortgage payments, and a lot of gratitude for being able to make this happen.
The very next thing we did was go to our new home and shoot this video walk-through (previously posted last year). This will give you an idea of where we started.
---
---
In the intervening year, two other similar units in the building have sold, one of them a smaller fixer upper in much worse shape than ours sold for 10% more than we paid, and the other in better condition, but sadly stripped of much of it's character (including the fireplace and original floors), sold for 15% more than ours. We could still buy an apartment in our neighborhood, but it would be a lot smaller and nowhere near as amazing as what we bought just last year. Again with the gratitude for being able to make it happen.
So to celebrate our first year, I thought it would be fun to do a look back at some rooms then and where we are now.
The Living Room:
Obviously, the room with the biggest change is the living room. When we closed on the property, the walls were landlord off-white, there were burglar bars on the windows from the high crime era back in the 1970s/80s, and the fireplace tile had been painted black, then poorly stripped to reveal the original tile underneath. Well, we went bold, painted the ceiling black, hung an amazing chandelier and the transformation was huge.
The Center Hall:
The next big room with a change isn't really a room at all. Yet, it is one of my favorite spots so far. This lovely space is small at 5×6 feet. But it connects the living room to the kitchen, bedroom, and bathroom in a delightfully spacious way. You can read more about this transformation in my post from last spring [
Part I
and
Part II
]
And then there are the other rooms….
Entry Gallery:
The 22 foot long entry hall, or entry gallery as I prefer to call it, is the most recent space to be transformed, and transformed it is…. When we first walked into the apartment, the gears began to spin in my head about what we can do with this awesome space. Well, it has been transformed; the doorknob shot is but a sneak peak. I hope to do a full reveal within the next week.
The Bedroom:
What can I say…. Not much. Other than ordering custom blinds, we have done nothing to the bedroom other than make it functional for day to day use. There isn't really a before as it was just a blank room. But we do have a plan and it does involve Farrow and Ball Drawing Room Blue.
The Bathroom:
Another room which hasn't had much change other than blinds, and coordinating accessories. Not surprisingly, but black and white with bold strokes of red will be the plan.
The Kitchen:
This is the room in which our plans have changed the most. We were forced to do a quick demo after we found a large area of dry rot in the floor the day we closed. Our intent was to do a temporary kitchen to last four or five years and then do our dream kitchen.
That has shifted, and shifted, and shifted. Just looking at all of my posts over this past year, it has been the most written about room. And just when we were gearing up to begin the major renovation, I developed tennis elbow (which I am still dealing with it), and suddenly the timing of things was just wonky. So, we have postponed the kick off of the kitchen until somewhere around the first of November. So stay tuned as there will be lots of kitchen related goodness to come.
---
Well, that about sums up the highlights of the past year. We knew going in that this was going to be a long term project and nothing was going to be fast. But for me (and Yoav), having a home which is reflective of us, and having it done in the way we want, is totally worth the wait. The very last thing I would ever want would be a "turnkey" ready to move into apartment. Because then you are dealing with somebody else's idea of a nice place, which rarely coincides with my more eclectic tastes.
One last parting shot… This display cabinet (Ikea REGISSÖR) was in another corner of the living room behind one of our French doors, but we discovered it looks much better here in this corner, don't cha think?