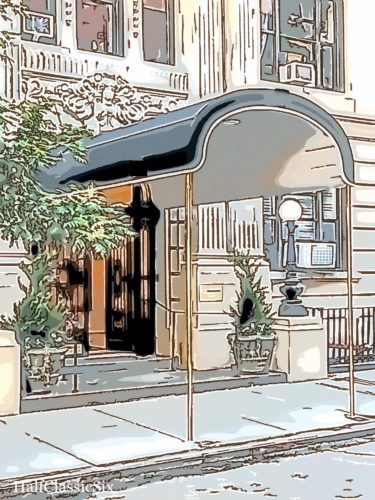 Half Classic Six has been fairly quiet this past year and there is a good reason. Week before last I posted a personal essay written in the fall of 2016 about my love of New York City and my complex relationship with it. Now it is finally time to reveal some of the goings on this past year, and the changes are B.I.G.
Last week, Y and I moved out of our Half Classic Six on the Upper West Side and into a new (old) rowhouse with plans to start a new life in Philadelphia. We have completed what has been a 15 month long process of transitioning from a world class Alpha ++ city to a (still very special) Beta City and we could not be happier or more ready for the change. The move has been an open secret with many of our friends for quite a while, and I have (of course) been quietly blogging about it for more than a year (more on that in a bit), and finally I can make public our plans.
[I shot the above video shortly after the movers left for Philly with all of our stuff last week. It was a bittersweet moment as I was alone with Bixby in the empty apartment one last time.]
Let me back up a bit. At the end of 2016, a series of events led Y and I to begin to rethink what was important in our lives and plans for our future. I had been working through my disillusionment with my beloved city, and was feeling as though the efforts needed to make it here were exceeding my willingness to keep it up. And while my long held belief that "New York is a drug to which I am hopelessly addicted and seek no treatment" still resonates with my heart, I have come to realize after ten years of living my New York City dreams, my relationship with the city was just not working anymore. Perhaps it was time for me to break up with New York?
Perhaps it is… As I have moved comfortably into middle age, quality of life has become more and more important. The financial and emotional cost of carving out a middle class life in New York is heavy and draining. It no longer feels worth the amount of effort required to achieve it. The more we discussed things that we value in our lives, the less New York played a role in it. We came to the conclusion that if we were willing to let go of New York City, we could still have the benefits of living in a big city and the comfort of living on a lot less income, all the while simplifying our lives and focusing on what is important to us. So yes, it is time to break up with New York… Words I never imagined I would be ready to say.
To that end, I left my job of ten years a couple of weeks back, and I'm looking towards pursuing creative opportunities while still using my technical knowledge. I am still figuring it all out, but look forward to finding a new path. Y is fortunate enough to be able to take his work with him.
So where just where in Philly did we move? Well….. Being city boys, we knew we needed to be as close to the middle of things as we could. We bought a 2,000 square foot, five bedroom, 1.5 bath, three story rowhouse in the South Philly neighborhood of Pennsport (near Center City). The house overlooks a park, and was built in 1852. It is a fixer upper and will keep me busy for at least five years, probably much longer (I get to do a new kitchen again!). As previously mentioned, I have been blogging about it since the end of 2016 when we made the decision to break up with New York. You can read all about it at OurPhillyRow.com. You can even read from the beginning (If you are so inclined) and find out how the whole thing came about.
I will undoubtedly miss the many conveniences of living in Manhattan like having a diner downstairs on the corner, 24 hour subway less than two blocks from home, having virtually any cuisine delivered to your door in less than an hour, and the endless parade of interesting people you encounter in day to day living. I will also miss the cachet of living successfully in an Alpha City. But… I will not miss the dubious habitability of life in Manhattan including such things as:
Packed grocery stores with 36 inch wide isles.
Constant delays and breakdowns of the subway system (which I frequently referred to as MTA Clusterf*cks)
$13 for an an ordinary glass of wine at a basic restaurant.
Endless and completely unnecessary horn honking at all hours of the day.
The increasing sense of self-entitlement fed by the huge influx of wealth over the past ten years.
I could go on and on. I will always love New York, but just a few days after the move, I can't get over how much I am loving the quiet of not being in New York.
So what about this blog? This will likely be my final post on Half Classic Six, thank you for everything dear readers. I have thoroughly enjoyed writing this ongoing love letter to our amazing apartment and look forward to new adventures at our house on OurPhillyRow.com. I hope you will drop by and follow along with the house in Philly. And one more thing…. Please consider signing up for email notifications of new posts at Our Philly Row, it is super easy to do, just enter your email at the bottom of the page on OurPhillyRow.com. I promise to never share your email address or spam you in any way. ALSO….. I would love to have you follow along on Instagram: @OurPhillyRow
Farewell Half Classic Six, Hello to Our Philly Row and a new life in Philadelphia!
SaveSave
SaveSave
SaveSave
SaveSave
SaveSave
SaveSave
SaveSave
SaveSave
SaveSave
SaveSave
SaveSave
SaveSave
SaveSave
SaveSaveSaveSave
SaveSave
SaveSave