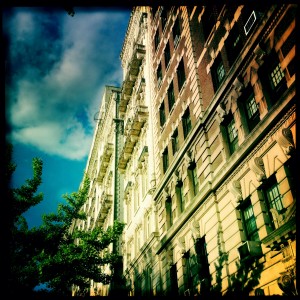 "The story of the New York apartment is a tale of need alchemized into virtue. Over and over, the desire for better, cheaper housing has become an instrument of urban destiny. When we were running out of land, developers built up. When we couldn't climb any more stairs, inventors refined the elevator. When we needed much more room, planners raised herds of towers. And when tall buildings obscured our views, engineers took us higher still." (Justin Davidson, New York Magazine, 2011)
When I read the quote above in what is a really great article, I felt it so embodied the history of apartments in New York City I couldn't think of a better way to say it without plagiarizing his text.
I have long been an architecture geek, and my love for Manhattan runs deep in my blood. The history of housing here is truly interesting. One of my favorite sources of classic New York apartment pornography is "The World's loose leaf album of apartment houses, containing views and ground plans of the principal high class apartment houses in New York City, together with a map showing the situation of these houses, transportation facilities, etc." The NYPL Digital Collections has posted online pages from this amazing book published in 1910 (and sold for the enormous sum of $25). My building is in there along with many many more. Truly a treasure trove of information.
Here are a few links to additional online content and books you might find helpful if you are interested in learning about the history of housing in Manhattan as well as the history of the Upper West Side and Morning Side Heights. As I come across more, I will add to the list. If you know of any, feel free to let me know and I will consider them as well.