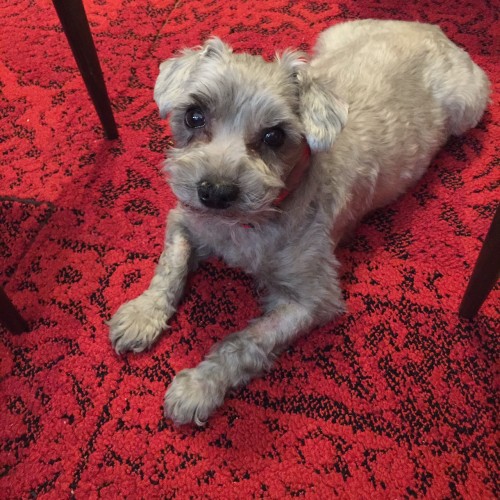 OK, the proverbial cat (or really a dog) is out of the bag…. Today, Yoav and I picked up our new member of our household. His name is Fritz, he is a seven-ish year old Miniature Schnauzer (mostly, we think) who was dropped off at the Animal Care and Control of NYC and then rescued by Posh Pets Rescue (an amazing local animal rescue organization).
So, before this becomes all about Fritz (which it will), lets go back in time a bit. When I met Yoav, he was a cat person…. and not terribly fond of dogs. I on the other hand am deathly allergic to cats, to the point that I have been known to stop breathing shortly after entering the domain of a cat. Therefore, I have never been very fond of them. I was always a dog person at heart…
I grew up with a dog in the house most of my childhood. I have faint memories of Max and Mindy, a pair of Dachshunds from my early childhood, and then we got Pepper when I was about 5 (he was sadly stolen we believe), but it was when I was 7 or 8 that my father found a young handsome silver miniature Poodle wandering on the street with a note on his collar that said "Please take care of me" that Buddy came into our family. Buddy was at times more my fathers dog, but none the less, he was the family dog as well. He was there the majority of my formative years. I have many memories of him swimming in the pool, running around the pool, lifting his leg on houseplants, and most of all, humping his favorite bitch er, ball. Shortly after I left home at 18, Buddy developed a tumor in his face and eventually we had to put him down to take him out of his misery. That was a tough day I remember well. My mother and I surprised my father with a puppy (Alexander Troubles Bell) very soon after and I being already away from home didn't have much contact with dogs in the intervening years. I cared for a friend's dog for a few months while he was in rehab while I lived in Portland, Oregon, but that was pretty much the extent of it. I was never in a situation where I could have a dog in my rentals and although I eventually moved into dog friendly buildings, I was just not able to devote the time with my work schedule to be available for a dog (funny, I was single most of those years as well….)
Fast forward to meeting Yoav. It was very clear pretty early on in our relationship that we were probably going to be together a very long time. With his not being a fan of dogs, I knew that it would take time to win him over to the idea. His dog issues were mostly related to bigger dogs, he just hadn't thought about small dogs. So when we would be walking down the street, I would frequently point out different kinds of dogs I though was cute and tell him their breed (if I could figure it out). He got to where he could also tell the different breeds apart, and then it became a simple, "Yes" or "No", when we would encounter a dog. "Yes" being "I could envision a dog like this in my future", and "No" being "Oh Hell No…." This was all part of my plan (Muhahahahahaha) to win him over to the idea of a dog. Without a lot of effort, Yoav has come around (I won!).
Last spring, a friend who does a lot of work with an animal rescue (Posh Pets Rescue) asked if I knew anybody who knew how to do some web design work. Well, as if i don't have enough on my plate to keep me busy, I of course said yes. For a few reasons out of my control, I didn't actually end up doing much for the website (that may change in the future), but what I did get to do was help set them up with software to manage and track all of the animals and the movements of them. This of course made it simple as far as who to go to, to find the right dog for us. It was only a matter of time.
When we (finally) moved into our half classic six in September, I expected we would adopt sometime next year…. but more recently we decided that there was no reason to wait. It didn't matter that not everything was finished in the house, as we would have done all of this renovation work if we had already had a dog wandering about the house, so why should we wait?
A few weeks back, we logged onto their website and found an adorable four year old Shih Tzu and immediately were in "Lets Adopt" mode…. We filled out the application, and then found out that we were not the first people interested. That's when this past week, we found out about Alvin. We were momentarily hesitant about meeting a seven-year-old dog, but then we thought why not? He needs a home, and he still potentially has several more years left. So we arranged to meet him and on Wednesday evening, we took a cab to the Upper East Side and met Alvin. He was timid, nervous, he shook for the first few minutes Yoav was holding him, but he calmed down. Calm being a key word here…. Or perhaps Chill…. He is perhaps the most chillaxed dog I have ever seen. And quiet, did I mention he is quiet? In that 20 minutes we were with him, even when he ignored us, our hearts warmed to him and it was a pretty easy decision (well, that combined with his being housebroken). Climbing into the cab to come home and "think about it" we both knew that we wanted him… As long as we could change his name. Thus after considering Spartacus, he became Fritz.
So, here is what we know. In mid October, Fritz was turned into Animal Care and Control of NYC as a stray found on 112th and Park Avenue (and named Alvin), his coat matted on the underside and weighed in at about 14 lbs. His intake paperwork states that he is about seven years old and although Animal Control marked him as a Wheaten Terrier, it's pretty obvious that he is a Miniature Schnauzer. His intake person noted that he was "Easy to handle and walks calmly on a leash, but he was also fearful and he tends to freeze and turn away when you approach him".
Taking all this into consideration, Yoav and I thought; "How could we not take him in?" So after spending nearly $200 at Petco on Thursday evening, and preparing the house for his arrival, we took a cab back to the Upper East Side this morning and picked him up. Upon arriving at the home where he has been staying this week, he was, as before, very chillaxed and pretty much ignored us. His behavior is due in part to the fact the he was neutered yesterday (ouch!), had a tooth extraction, and a dental cleaning (basically, he is pain at the moment). Many people at this point would look at him and say no way. But having already developed a soft spot for him, and being completely oblivious to the fact that he will likely need to go through some behavioral modification, we jumped in a cab and headed home.
Upon arriving at home, he was of course nervous, and scared, and timid. It took a few minutes, but he did manage to wander around the apartment and sniff about. Then he discovered the dog bed in the living room and he has pretty much spent the next several hours there. As the day has worn on, he has wandered out of his bed a few times, wandered around the house, and when there was food present, he definitely was interested. His foster mommy said he likes wet food and we have learned he loves liverwurst. This will come in handy when we need to give him his antibiotics following his visit to the vet yesterday.
We took him for a walk about 5 blocks down the street to pick up some food for him at the pet supply. He walks very well (albeit a bit slowly as he is in some discomfort), and it is obvious that at some point somebody cared about him very much. He walks alongside you and doesn't need much nudging to go. Of course, when we got home, he wandered about for three minutes and then went straight for his bed.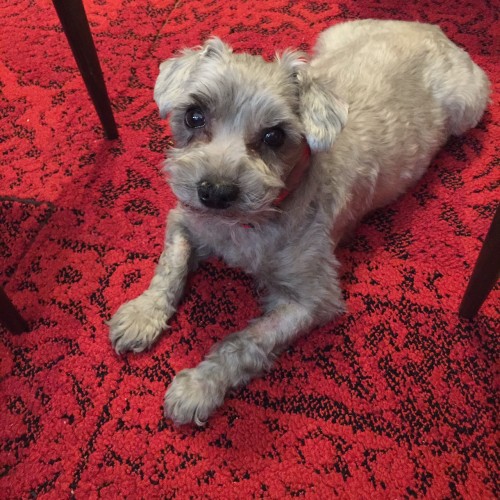 Since I am writing this, only hours after bringing him home, it is far too early to tell what he will be for us as a pet. Will he remain shy and a bit standoffish? Will he become more reclusive, shy, and fearful? Or will he (as we hope) finally feel like he is in a loving home again and allow himself to just be a happy little doggie? Only time will tell. We will do our best to ensure that the latter happens, but will accept him regardless. He is our very own rescue doggie and I guess that makes us Doggie Daddies! (Ugh).