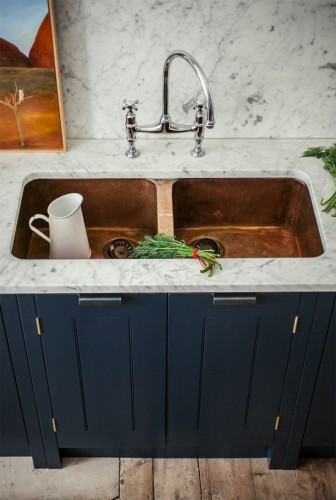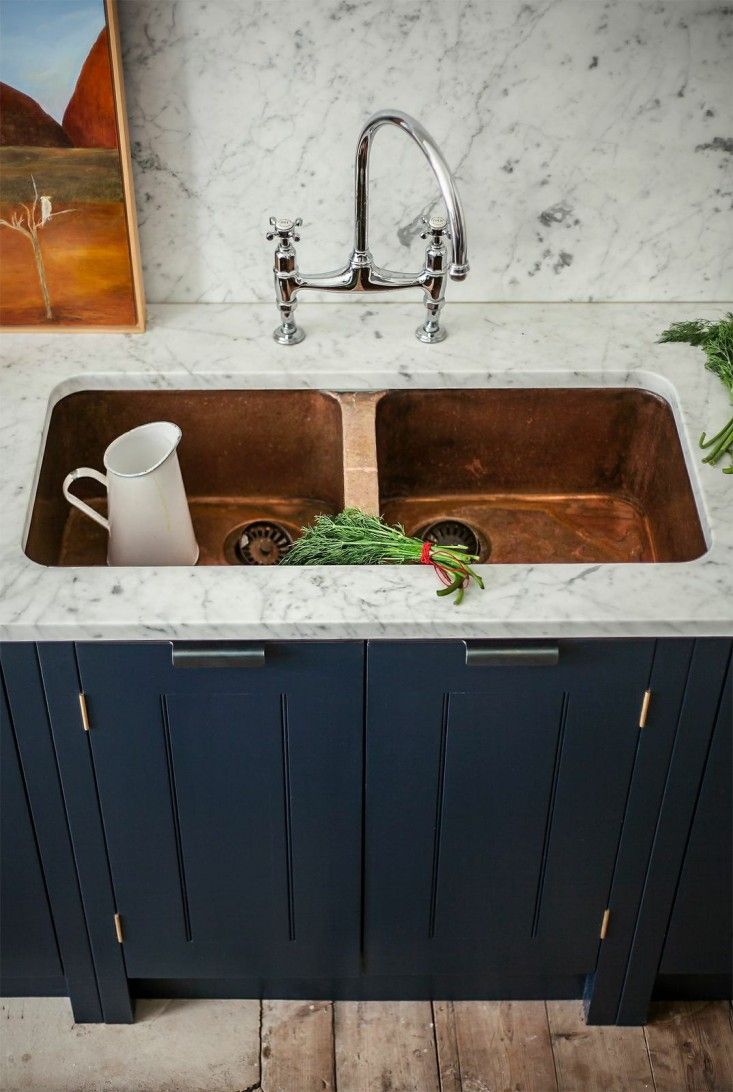 [Photo: This is one of the more beautiful kitchen combos I have run across in my countless hours of obsessing and planning our new kitchen. Source: Remodelista]
In my last post, I went into great detail about how compromise won when it came to figuring out what we are going to do for our cabinets. I am completely in love with the shaker cabinets which are commonly available in the UK, but are not easily attainable in the good old boring US of A. But, in the end, I think I have a solution we can be happy with which will give me some of what I want.
So now that we have made our cabinet decision all the way down to the lovely shade of Stiffkey Blue by Farrow & Ball, the next major element would be what we plan to use as counter tops (or as they say in the UK, work tops). There are lots of options when it comes to countertops.
---
The No Way Jose Collection….
There are several countertop materials which we immediately wrote off for various reasons. Not that these are the wrong choice for others, its just that they were not the right choice for us.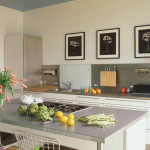 Laminate: This now oddly old fashioned material commonly known by the brand name of Formica became popular after WWII because it was modern, affordable, and could be manufactured in any color or pattern imaginable. It prevailed throughout my childhood and in the right setting can look lovely. It is the most cost effective option, and if the color and pattern are carefully chosen, it can be very nicely done… but not in a 1910 kitchen.
---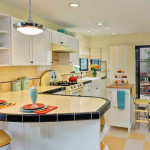 Ceramic tile: Popular in the US during the 1920s -1950s and then again in the 1980s, tile is a very durable material and can take a lot of wear and tear. Tile is popular in other parts of the world, and has been used for centuries as a durable work surface. However, whenever I see it, it looks to me like the 1920s-1950s or the 1980s but does not look like anything you would have used in 1910, or would use today. And then there is also the somewhat scary feeling, that no matter how much you scrub the grout, it will never be clean enough for food to touch it.
---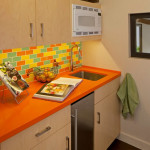 Solid Surface: Basically it is solid plastic. The most popular brand being Corian, it comes in a zillion colors, some natural, others very unnatural. When introduced in the early 1970s, it was considered a luxury material, but by the 1990s, the sense that it was luxurious wore off with the growing popularity of a material in which a lot of solid surface was intended to mimic, granite. Personally, when it comes to Corian, I hate it. I mean really hate it. Understand, hate is a strong word I rarely use, but I can say without a doubt, I TRULY HATE CORIAN.
---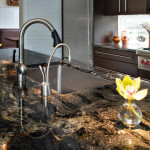 Granite: In the 1990s, granite was considered to be a luxury material, and it was. But by the early 2000s, technology in cutting and polishing consistent pieces along with demand drove the price of granite down to where it was attainable to nearly everyone. I remember how excited I was when I bought my Chicago loft in 2003 that I had granite countertops as well as tile floor in the kitchen. However, as beautiful as granite can be (as is the granite in this image), it has become so ubiquitous that I definitely don't want it now. It has been done to death.
---
Concrete: I love concrete countertops. Concrete as an option began to appear in luxury homes on the West Coast in the 1990s. When I first encountered it about 15 years ago, I fell in love and thought it would be an ideal choice for counter tops. I especially love the rough raw look, the solidity of it, and how it can be easily shaped in any way you want it to be. But concrete is not the right choice for us. It is very pricey, and just too modern for our space. I also fear it is also already beginning to look like it is stuck in an early 2000s time warp. Imagine how dated it will look in 20 years?
---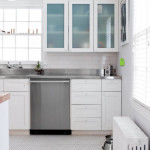 Stainless Steel: I have always thought stainless steel was a great choice for kitchen counters. There is a reason it is the standard in restaurants. It is impervious to stains, there are no issues with setting a hot pot on it, and although it can scratch, it takes on a lovely patina after years of use. Because you can make a seamless custom made counter, I always felt stainless was the easiest to keep clean as you can just wipe the whole thing down with a rag soaked in bleach water like they do in restaurants. But as beautiful and practical as stainless steel is, it's very expensive to have fabricated and although quite nice in this photo, it isn't the look we are going after.
---
Butcher Block: Very traditional, butcher block has been used in kitchens for centuries. It can be fairly durable, and depending upon your viewpoint, it either ages gracefully or it looks like crap in a few short years. It is also high maintenance requiring sealing with mineral oil a few times per year, and susceptible to rot and dark stains around the sink area. I used butcher block in my last apartment when I did a kitchen facelift to get it ready to sell, and I like it enough that I will be using it in our new kitchen in an unexpected way.
---
And now the contenders:
Quartz: What can I say, quartz is fabulous… The color choices are amazing, the durability of it is unrivaled, and it is just very beautiful. We gave this some very serious thought in our search for the right material to top our cabinets. There are several styles which do a very good job of mimicking marble.
Soapstone: There is a reason you had soapstone counters in chemistry class back in your youth. While it is a soft stone which can be scratched or chipped, it is also an incredibly durable surface which can take any kind of spill without concern as well as the heat from a hot pot. Soapstone is timeless and very traditional for the period of our home.
Marble: Oh, where do I begin? I have long had a love affair with marble. I remember as a child, touring the California State Governor's Mansion and seeing a marble table top in the kitchen, and a few years later while visiting my grandfather at Mercy General Hospital in glamorous downtown Sacramento and seeing that the bathroom stalls were made of marble. So you could say I have a soft spot for marble in my heart. As a material for countertops, it is truly timeless. It has been used for centuries and I have no doubt will be used for centuries more. I also believe that in twenty or thirty years, it will still look timeless and amazing.
---
Go with the heart or go with common sense?
OK, so at this point, you have guessed that we narrowed it down to three materials; marble, quartz, and soapstone. My first inclination was of course…. Marble. Every time I would see a marble kitchen, my heart would melt at the beauty of the natural stone. But marble is not without issues. Fabricators frequently try to talk customers out of buying it because of the maintenance and because it is prone to staining. These fears have caused my husband to have real reservations about it (and he does have ultimate veto power). Marble is high maintenance, it requires frequent sealing, and is known to be susceptible to stains and scratches. My husband will be the first to admit (and I will agree) that he is not always the most observant person when it comes to spills and such. When you combine his less than stellar observation skills with the the fact that we go through several pounds of frozen berries each week between the two of us, he had very real fears that errant blackberries, boysenberries, and blueberries (and related juices) would find their way onto the counter-top unknowingly, and be obliviously left to leave permanent stains. I would add that although I am more aware of such things, I have my own fears about possible drops of red wine leaving marks in the worst of places. And then there are the coffee grounds which are always present after I grind my beans fresh every morning, along with drips from the pouring of my coffee, leaving permanent brown marks over time. These fears are very real….. Ugh, so the common sense part of me had to be willing to consider other options.
If not marble, then what? Quartz was the first option we looked into. This started last year when we discovered that there are several marble like quartz counters out there. We found a few that were nice, but the more I looked at the quartz counter options, the more I felt it didn't resemble marble enough to convince me that I was walking into our kitchen and it had marble counters. Common sense may have told me that this would give us the look of marble, but with the durability of quartz, but my heart said, not so much… there was also my desire to to stick with my original plan of using only materials which would have existed at the time our home was constructed in 1910. Quartz composite was definitely not an option back then.
So, no marble, and quartz isn't gonna cut it as a marble substitute, how about we change this up completely and look at soapstone? I did a bunch of research on soapstone and discovered it is really an unsung hero in the world of countertops. As I previously noted, it is exceptionally durable and when oiled, has a beautiful deep black color with veins varying in color from gray to white running through it. It is also impervious to staining; meaning our concerns about berries and coffee are no longer a concern at all.  I also loved the fact that because the stone is relatively soft, we could have grooves cut into the counter by the sink creating a built in drain board for dishes. How cool is that?
The only downside about soapstone had nothing to do with soapstone itself. But I realized that having black counters with dark blue cabinets and our planned black tile floor made for a rather dark space, especially when you consider we are planning on painting our trim a dark charcoal gray. That would leave only the walls and ceiling in a light color. The room has only one window, but it is large, faces south and gets a lot of sun, but probably not enough to overcome that much darkness. I don't mind darkness in the bedroom (we plan to go very dark in there), I don't want the kitchen to feel dark all the time.
That said, the more we let common sense dictate our thoughts and fears about the risks of staining on marble, the more we realized that soapstone was ultimately a better choice from a practical sense. To reduce the amount of darkness, we decided to change the tile and trim colors to a lighter shade to minimize the fears about too much darkness.
So, Common sense has prevailed and won…. Soapstone it is!
Or is it?
A few weeks back, after pretty much making the decision that soapstone was the best choice in our situation, I was poking about the Interwebs doing research on soapstone when I came across a few online posts about living with the much feared marble (such as this, and this, and this) and the debunking of such myths that marble is so freakin easy to stain. My interest was piqued! With even more research and more thought, my heart's desire to have marble entered the picture again. I knew I was willing to live with the the risks of having marble, but feared the reality of actually having stained countertops. The challenge was convincing my adorably clumsy husband that those errant berries won't be such a scary thing after all. I shared the articles with him after which he responded "It looks like we can get stains out if you work a little. If this is how you want to go, I am on board 🙂 🙂 🙂 ".
So, with Yoav's blessing, we are back to marble. The question now was what kind of marble. White obviously, but there are more than a 100 different types of white marble. The most popular being Carrara, which is on the lower end of the price spectrum. Another popular one is Calacatta, which is higher on the price range of common stones. Most people prefer Calacatta, but as it turns out for it's warmth and underlying brown and gold tones, I like the low end Carrara, not just for the more affordable price, but mostly for its cooler gray tones, making this an easy choice.
We also have to chose from polished or honed marble. Polished marble is much more susceptible to etching and scratching than honed. Also, in 1910, they would have had honed countertops. So this is pretty much a no-brainer as well. As I write this, my mind is thinkin' Carrara on top of the Stiffkey Blue cabinets and brass hardware… Fabulous!
So, there you have it, Carrara Marble it is….. Honed, not polished… For realz this time. No more changing minds (until I change my mind of course). Yoav and I are fully prepared to accept the challenges of keeping our marble mostly stain free, and accept that marble is a natural material that will show age over time, which is perfectly fine for us.
Next up, floors and walls….. Using common materials and elevating them to classy and timeless.