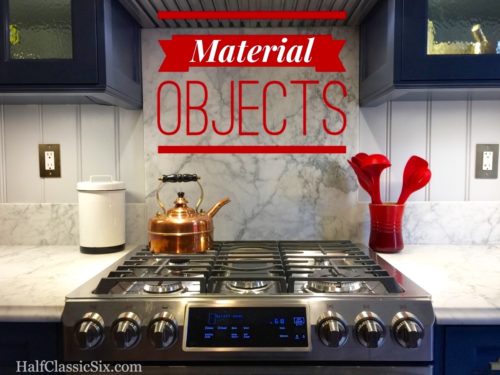 I would like to say that I am not materialistic, but that would be a lie, and I am not a good liar. Here is a post about an object I have obtained and why it matters. It's been a long while since I did a material objects post, so I thought it would be perfect to do one while I am on vacation this week. It is also nice to post something, anything, that is not about the kitchen renovation, although it is still related.
After finishing phase one of our kitchen last week, I began to think about accessories and what should and should not be on our countertops. I want to incorporate my favorite color of red into the space, but I also want to be very careful not to overdo it as red is a powerful color and too much can overwhelm a space. I decided that three objects in red would be about the right amount of accent without detracting from the Stiffkey Blue cabinets and marble countertops.
So, for the accessories, I decided to swap out our white utensil crock to a red one from Le Creuset. I chose it mainly because I really love how the red glaze shifts from a warm-red to a cool-red, and also because we picked up a red spoon rest from Le Creuset last year which has the same glaze effect. It will be added to the stovetop once it is unpacked. I also added a set of red silicone utensils to the crock because I loved the way they look on the counter. The third accent of red (I consider the red crock and red utensils as one accent) comes in liquid form. I have an antique laboratory acid bottle which I have used for my dish-soap for the past 20 years. For the past several years I have kept it filled with red dishwashing soap. Yes, I am that obsessed with details.
If you saw the kitchen photos I posted in my last post, you also saw the red tea kettle on the stove top. As I looked at the photos myself, I kept thinking about how the red tea kettle was that item which tipped the scale on too much red for this side of the room. Even without the (still packed away) red spoon rest, it just looked like a distraction. Perhaps it was time to consider replacing the ever present tea kettle on our stovetop.
This of course, brings us to the point of my post. Whenever I need/want to buy something for our apartment, I try to take some time researching my options and choose just the right thing. I like to think of the various objects in my home, whether practical or decorative, as considered objects. Looks being the obvious first decision when choosing an object, I also factor in how it will fit into its surroundings and how it will function. I look for quality materials and construction and, of course, I factor in price. This is how I ended up with our Simplex No. 1 copper tea kettle.
I first Googled "brass tea kettles" and quickly discovered that actual brass tea kettles are basically nonexistent. Probably for metallurgical reasons, I am guessing that brass does not make for a good tea kettle. But copper does! Immediately, I realized that the color of the copper would blend beautifully with my red accessories and, of course, tie in well with our copper sink. There is of course the tradition of copper use in cookware. It's preferred by many professional chefs because of its superior heat conductivity and it really pretty too.
So, I began to look at copper tea kettles on Pintrest and the style of the Simplex kettle really stood out to me. In addition to it being copper, it has lovely brass accents on the handle, and I liked the wooden handle. Of course, I looked up their website and quickly discovered that at $300, the Simplex was simply too much money for me to justify.
A bit of background on Simplex tea kettles. They are made in the UK and have been a staple of British homes for over a century. From their website: "Simplex Copper Kettles have been standing on the stoves of tea lovers across the world since 1903. Using Edwardian hand-crafting techniques, every copper tea kettle is hand-made by our team of craftsmen based in the heart of the England."
The more I looked at them, the more I was really falling in love with them. And getting buy-in from Yoav was easy as he immediately loved them too. They fit right in with the look we are going for in our kitchen. I love that they are of a simple design with clean lines, yet also have a very old fashioned feel as well. So what to do? $300 is really too much to spend on a tea kettle which will only be used a few times a month.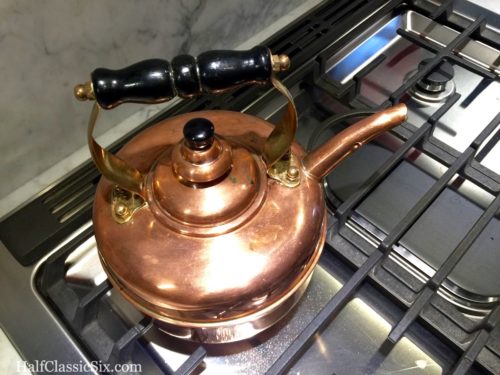 While chatting about this with a very close friend, he made the suggestion that I look for a Simplex copper kettle on eBay. Um, Duh!!!!! How smart is that? While on the phone with him, I immediately went to eBay and searched "simplex copper kettle". It turns out that there are quite a few listings of Simplex copper kettles on eBay. There are listings for what appear to be new ones at heavily discounted prices which in my experience are suspect. And there are several older used ones in various states of condition from dark tarnished copper to dented ones, or tarnished and dented ones.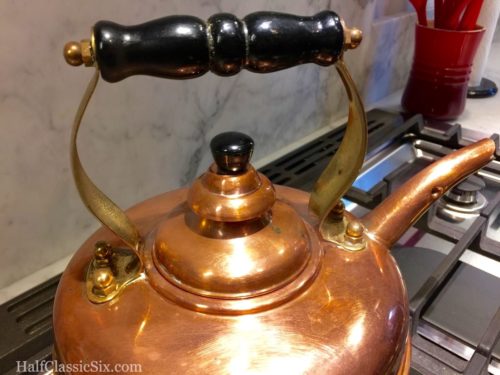 But there in the midst of all of the listings was a beautiful used kettle priced at $50. It was definitely used, but overall it was in pretty good shape with no dents and little tarnishing. It doesn't take much to realize that $50 for a slightly used kettle verses $300 for a new one definitely brings it into the realm of yes, we can justify this expense, and we will get a really beautiful object at the same time.
Our kettle arrived the day before we left for this week's vacation. Immediately, I knew it had to be featured in one of my Material Objects post series. I managed to grab a few shots on Friday evening before we left. Unfortunately, I was in such a hurry, I didn't notice the giant grease splotch on the stove until we were long gone.
As I was writing this post, we were looking at the pictures and we both remarked how much we love that it is not brand new looking and overly shiny. It has just the right amount of age and wear to show that it has been on somebody's stovetop for a long time, and hopefully will remain on our stovetop for a long time as well.