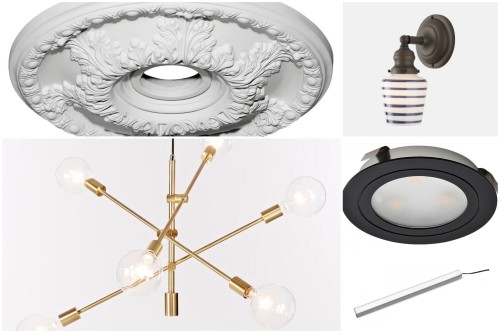 This is the fourth post in my series The Final Kitchen Plans. In my first post (Part I), I talked about how our final plans evolved to using materials we had either never considered or previously just written off and said no to. I kicked off this series about our finalized plans for materials and space plans. I recapped our very exciting flooring decision from last week, and then went on to reveal that we are not going to go with subway tile, but instead will be installing 4.25 inch beadboard planks as wainscoting around the entire room. In Part II, it's was all about cabinets and countertops, how we ended up ditching IKEA and going with a more traditional plan, and deciding to defy the naysayers and go with white marble countertops. In Part III it was all about my discovery and acceptance of metals in warm tones such as aged brass and copper which I had never previously considered, and then getting the mixed metals in our hardware and appliances to play nice together. In Part IV, I will reveal details of our lighting plans, from under-counter options to traditional kitchen lights and finally the chandelier.
But first some background…. My mother informs me that among the earliest words I learned after "mama" and "dada" was "lights". At night as I rode strapped into my car seat in the back of our 1962 Ford Fairlane 500 (with a V8 engine), I would point and say "See lights!, See lights…!". Throughout my childhood, I loved to play with lightbulbs. Other boys played with trucks and cars, I played with light bulbs, sockets, and extension cords.
Once my father found a low wattage incandescent bulb in a box of clothing in the garage, plugged in, switched on and at the smoldering point. Another time, I filled the house with toxic plastic odor when I put a high wattage bulb in my Lite Brite, causing it to melt into a lump of plastic (I wanted it to be even more bright). Clearly this was just the beginning of what has become a lifetime obsession with lights and lighting and also probably fed my intense desire to live in NYC. This of course translates to an obsession with how to best light our kitchen.
Under-cabinet and Cabinet Lighting
More than twenty years ago while living in Seattle, I strung a string of white mini christmas lights along the underside of my cabinets above the sink and discovered the fact that the area under one's upper cabinets will always benefit from added light. I could not only see what I was doing while standing at the sink (in the shadow of the single ceiling light), but I loved the added glow to the space when I was not necessarily using the kitchen. In my next apartment (above), I strung those same white mini lights inside and underneath my original 1905 built-in hutch in my kitchen creating wonderful accent lighting (assisted by my blue neon "Huge" sign above). Over the course of the past 20 odd years I have continued to add lighting under my cabinets wherever I could, and of course, our new kitchen is no exception.
It is a no-brainer that we will go with LED under and inside cabinet lighting. The trouble is, there are literally hundreds of options when it comes to choosing the best lighting system, but ultimately it comes down to quality for an affordable price. There are plenty of cheap LED lighting options on Amazon, and elsewhere, but this is a case of getting exactly what you pay for. One key thing to remember about LED lighting, they nearly always claim the "bulb" will last for five, ten, or more years and this is mostly true. But just because the "bulb" will last for tens of thousands of hours does not mean that the electronics which make it work will last more than six months, or a year. So inexpensive will not do as I don't want to be replacing the lighting for at least the next ten years. At the other end of the spectrum are companies like Juno, who sell very good quality cabinet lighting, but they charge a huge premium and I don't think it's necessary to spend so much. This is where my obsessive and relentless searching for the best option on the internet pays off… I discovered a quality system which is reasonably priced on
Rockler
. We will use the puck light on the insides of a couple of our upper glass door cabinets, and the LED bar fixtures, which come in various lengths, will do a beautiful job of lighting our countertops. Best of all, they will be on dimmers to control the level of light to create the perfect mood.
Take a look at images of vintage kitchens going back to the late 19th century in the homes of the middle class or better and one common element you will see next to the kitchen sink is a light either on the wall or above the sink. As kitchen technology developed in the 1800s, it became quite common to have a gas light installed over the sink area to keep that area well lit for evening chores. This trend transitioned to electric lights early in this century, and in some form or another, have prevailed to this day as an all but standard feature in kitchens. By the 1950's the light receded into a square glass recessed light over the sink to light the area. Now the trends for wall mounted sconce lighting is all the rage again. I thought about caving to the trends (I love the look), but decided to stick with the very traditional sconce over the sink look. I scored a vintage 1915 brass wall sconce with shade on eBay for about $25. I am not a fan of the shade, but this shade at Schoolhouse Electric will look amazing when center mounted over the sink.
Chandeliers and kitchens are not often used in the same sentence as kitchens tend to be a fairly utilitarian space. However even though our kitchen is reasonably utilitarian, it can be said that a chandelier will dress up any room and in my opinion, there is never a valid reason to not have a chandelier. So the hunt began… I had originally purchased a vintage 70s chrome fixture for the living room, and when we scored our
Tronchi Chandelier
, I decided to use it in the kitchen instead. But it would be too big for the space, and I kept finding myself gravitating towards brass which, if you read the last post in this series, is a big shift from my thinking of the past. Yoav was hesitant about the idea of brass. His perception of brass was the ugly and garish polished "Donald Trump" style featured in nearly all of his buildings, I was thinking brushed and toned down. We found lots of nice fixtures on Etsy, and we saw things we liked at several different stores, none of them capturing us enough to "add to cart". I also though about buying the parts and making our own unique fixture, but I already have enough projects to keep me busy for a long time. Then I was awarded a gift card for West Elm at work, and when I went online to see how I could spend it, I began to peruse their chandeliers. It seems like nearly all of the fixtures we are drawn to are bare bulb. I have long loved the look of Edison bulbs, but they are HUGE energy wasters and the color is too warm for the space. As it turns out, we had already acquired clear LED globe bulbs for the chrome fixture, and they will look fabulous in this fixture. The best part… It was 20% off, and with the gift card, we ended up scoring it for less than half the regular price. Of course the perfect lamp needs the perfect medallion. Not every space can pull off a medallion (I often think they look silly in pretty much anything built after the 1920s), and there would never have been a medallion in the original kitchen, but this space was a bedroom, and a medallion would have been realistic to have in a bedroom in 1910, so I am going to just go with it. The coved plaster ceilings lend themselves to our having a medallion fit right in. Besides, it's my kitchen and I want a fancy medallion.
So this is the lighting plan… More brass to prove that mixed metals can and will work together. The chandelier and sconce are ready, and the cabinet lighting is on order. I am excited about the light over the sink, and I think the brass chandelier will be fabulous! Coming up in Part V – The room plan, and how all this is going to fit together.
This post is part of a series about our final plans for the kitchen remodel we are beginning in early 2016. You can view all of the posts in the Finally — The Kitchen Plans are Final series HERE.