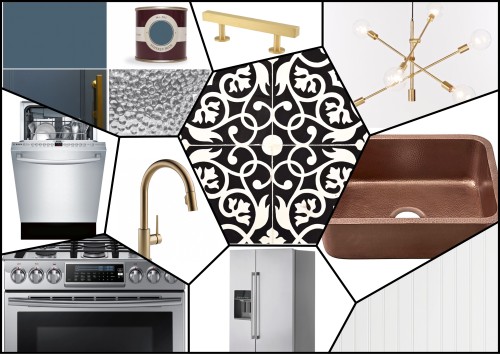 In December and January, I went over the final details of our kitchen renovation and shared our excitement that this really was finally happening. And now that the tile and cabinets have arrived (having filled up our entry hall), its time to follow up on a promise that I would do a post about the budget, and here it is…. First thing to remember… Setting location aside, kitchens are expensive! And when you factor in our location, it can become downright frightening.
The average kitchen renovation in Manhattan is shall we say, much more expensive to do than almost anywhere else in the US. How much? Well, I did a fair amount of Googling and came up with wildly different numbers; keep in mind, the average kitchen in Manhattan is about 65 square feet (about 7ft by 9 ft). Some sites said a basic cosmetic update can be as low as $6,000-$8,000. A basic renovation with new floors, cabinets, countertops, and appliances can start from a low of $12,000-$15,000 for basic tile floors, stock cabinets, laminate counters, and basic appliances, and go up from there. Mid-level renovations tend to start around $40,000 and go up from there, and high end kitchen renovations begin at $80,000 and can run well into the stratosphere (this is NYC we are talking about here). I have seen articles in the NY Times talk about kitchen renovations where the owners were working with budgets well in excess of $100k.
Why so all over the place? Well, it's complicated, but like any kitchen renovation, there are a huge number of variables which come into play. However, it mostly breaks down to a few simple basics. If you are only replacing existing appliances, cabinets, and such, the costs are limited by materials. If however, you need to move plumbing, gas, and/or electrical, the costs can go up very fast (permits for large projects alone can add thousands). And of course, if you want all the bells and whistles such as a wine fridge, or elaborate custom cabinets in addition to moving fixtures around, that just complicates things further.
Fortunately for us, we are doing a basic in-place renovation. The layout will essentially remain the same with the stove and sink located in the same place on the same wall as before, and the refrigerator will be located only a couple of feet away from where one was plugged in when we bought the apartment. The gas line will not be touched (period). The plumbing location for the sink isn't changing either, however we are going to replace the valves supplying the branch lines. As for electric, fortunately when the building went co-op in the 1980s, additional lines were brought into the kitchen (as well as other rooms) to accommodate additional requirements. We are going to add GFI's to existing outlets to bring them up to safety standards and extend an outlet to reach the other side of the stove.
So how much are we budgeting for our kitchen? Well before I get to the breakdown, I need to clarify a few things first. Labor… Typically, labor accounts for about 20-25% of the cost of a project, with materials making up the rest. For our kitchen, I will be doing the much of the labor except where we will require the expertise of professionals either for their skills or to comply with building rules. Since this is an apartment in a building full of apartments, I will not take on the responsibility of doing any changes to the electrical or plumbing systems (if this were a single family home, I would totally tackle the electrical and plumbing) so we will hire out the minor electrical and plumbing work we plan on having done. Another bit of labor we will be hiring out is the installation of the cement floor tiles. If it were just ceramic tile, I could/would do it, but our choice of going with a fancy cement tile floor, requires a highly skilled installer who is well versed in installing them. Lastly, we will need the services of a countertop fabricator as I probably can't handle cutting marble slabs in our apartment with any degree of accuracy (let alone even trying to obtain them in the first place). Otherwise, I am doing the majority of the rest of the work, which in my estimation will equate to about 70% of the labor. My amazing husband Yoav will also be helping out, but his most important role will be to provide the moral and emotional support I will invariably need through the course of the entire project.
| | |
| --- | --- |
|  Budget Category |  Total Budgeted |
|  Appliances | $5,200 |
|  Cabinets/Counter tops | $8,300 |
|  Finishes and Paint | $500 |
|  Fixtures and Lighting | $1,850 |
|  Cement Tile Floor | $8,000 |
|  Plumbing and Electrical |  $1,500 |
|  Tools and Misc Materials |  $1,550 |
|  Beadboard Walls, Baseboards, Trim |  $1,900 |
|  Devyn's Workspace |  $1,200 |
|  Grand Total: |  $30,000 |
Where we splurged, where we found savings, and where we lucked out…
Appliances – Savings Found:
I went over the details of our appliances in my post about the final plans, but in truth, now that they are all already purchased, we didn't really splurge on any of our appliances. The IKEA (Whirlpool) refrigerator was $2095 with tax and delivery and has a five year warranty. The Samsung range was way over our budgeted $1500 for a range, but when it went on sale for $1000 off, we couldn't resist and ended up getting it delivered for $1632 (damned sales tax), and it is much nicer than any of the ranges in our budget. The range hood ended up being lower than the $600 I had budgeted. At only $326 it turned out to be a pretty good deal. The only thing most people would consider a splurge would be our Bosch 18″ dishwasher. At $899, it is quite pricey for a dishwasher, but few options in an 18″ size, and the inferior quality of everything priced lower, it was really the only good option…. It doesn't hurt that it is a super quiet 44db when running. So, now that they are all purchased, we spent $4952, which is quite a bit less than our $5200 budget for appliances. This is of course, the only category which we have completed all of our shopping.
Cabinets and Countertops – Lucked Out:
Yes, Barker Cabinets did cost more than our original IKEA plan with SemiHandmade doors. The original plan would have come in at about $3,600. But by going with Barker Cabinets, we achieved the added flexibility of customizing sizes, allowing for additional cabinets in larger dimensions. This increased the amount of storage space by at least 30%, so the end price of $4,800 is actually very much in line with our original IKEA/SemiHandmade plan when the additional interior space is factored in. As for our countertops, after too many rounds of looking at the alternatives, we decided to accept the risks and go with our absolute favorite; white Carrara marble. Fortunately, in the world of stone counter tops, Carrara is considered to be at the lower end. I expect our marble will run about $100 per square foot installed (factoring in our location), and with 25 square feet of countertop, I estimate it will be about $2500. Together, the cabinets, countertops, textured glass inserts for doors, paint, and trim will end up around $8,500
Fixtures – Splurged and Saved:
We are mixing metals, starting with that fancy copper sink ($299) which isn't actually any more than a quality stainless steel sink, and a fancy faucet ($400) which is only more because of the finish, but only slightly extravagant compared to those fancy $800+ brass faucets I am in love with. Other finishes include the brushed brass cabinet hardware at about $12 a pull, LED under cabinet lighting ($300), and our brushed brass chandelier I scored from West Elm ($130 after discounts and gift cards) All told, fixtures and related stuff is expected to add up to about $1,800
Walls – Sorta Splurged:
We planned for the better part of a year to go with subway tile on the walls, but after beginning to grow tired of seeing it over and over and over again, I switched things up and we changed to 5/8 poplar beadboard walls. We will be running the beadboard up behind the cabinets on the sink wall for added structural integrity which will drive the cost up a bit higher, but in the end, the walls will be fabulous. As with the beadboard, the baseboards and trim molding will also be made of poplar, an affordable hardwood. All together the beadboard, baseboards and trim moldings will cost about $1900 (not counting primer and paint)
Electrical and Plumbing – Lucked Out:
Not a lot to say about it…. Keeping things in their original locations makes things a lot easier. But minor updates are necessary and we expect things to go smoothly. I would add that this is often not the case in New York City, especially Manhattan where even minor plumbing and electrical can run into the thousands. Here is where we lucked out. Together the Electrical and Plumbing are estimated to come in at about $1500.
Floors – Definitely Splurged:
No hiding the fact that this is our single big luxury item. And luxury it is… By the time it is installed, our 170 square feet of
heart singingly glorious flooring
will end up costing nearly $8,000. Yep, that's right, EIGHT THOUSAND DOLLARS. A lot of money for us, but sometimes you just have to find a way to have what you want, and so far we have zero regrets, even though it hasn't been installed yet. (The tiles were delivered a couple of weeks back, and every time I pass the boxes stacked in the entry gallery a smile comes over my face when I think about how amazing they will be).
So, that is the budget at a high level. I am sure there will be adjustments along the way, and ultimately we may go over by a few grand. But when I look back to 2014 when we moved in, I had envisioned my dream kitchen, and estimated in my head that it would be 50k or more. This was why we initially decided to just go with a temporary kitchen and do the dream kitchen in five or so years. But after some research and with careful planning, we will end up with an almost dream kitchen for only $30k, which is far lower than many of my fellow Manhattanites spent on their smaller 7 x 9 foot kitchens. Funny thing about it, all of this extra planning has resulted in what I believe will be a better kitchen than I would have ever dreamed of back in 2014.
Now it's gotten real….. The action of demolition has begun, and our lives have been turned upside down and inside out… Expect pictures and updates soon. As chaotic as it already is, patience will have its rewards in the end. If all goes well and my plans pan out as I hope, by the middle of April, we should have a functioning (not finished) kitchen, and by the end of May it should be amazing.