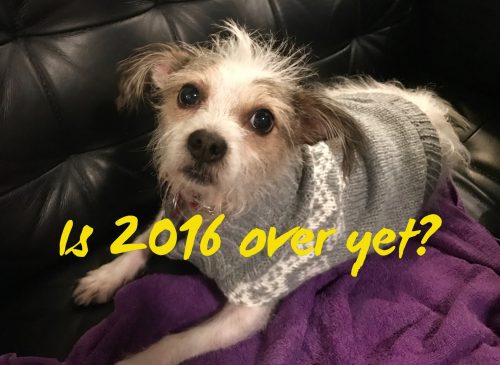 This is the final week of 2016 and "Is it over yet?" is on repeat in my brain. 2016 started out on a very high note for Yoav and me. We had big plans and were so looking towards finally settling into our home after completing the biggest renovation project I have ever tackled, our kitchen. Here we sit at the end of the year, our kitchen is close to being done, but we are not there yet, and circumstances have thrown us a huge curve ball into our lives of which I will shed some light on further down. [Lead Photo: Bixby is totally over this year too.]
First a quick overview of the year in our Half Classic Six. As I noted, the year started out on a huge high.
In January, we posted our final plans, took delivery of our gorgeous cement tiles (above), and started on the kitchen renovation with the demolition of our old kitchen (which only took a few hours).
In February, we got serious and dove head first into our kitchen renovation. First major task after removing the old cabinets was to pull up the 100+ year old oak parquet floor down to the subfloor. Yoav and I spent six days breaking up the old floor one piece at a time resulting in 17 construction bags of debris and hundreds of square cut nails.
In March, we wrapped up the demolition of the floor and began the preparation for our new floor. I took advantage of the situation and buried a conduit under the floor joists to allow a water line to run from the sink wall to the other side of the room for our ice maker. We then laid down a new layer of subfloor on top of the original subfloor to prepare for tile. Then the excitement began…. The tile installers came and got busy laying our beautiful concrete tile floor. By late March, we went from ugly rotten floor to a stunningly beautiful floor making our hearts sing with joy. We also got started on the bead board walls in preparation for our future cabinets.
In April, we wrapped up the initial installation of the bead board walls and went head on into the priming and painting of the cabinet components. It was at this point in the project that I realized I needed to break the entire kitchen renovation into three different phases. Focusing on phase one (getting our sink/stove wall finished) first. After priming and painting what seemed like an endless number of cabinet pieces, I began to assemble our sink wall cabinets and the beginnings of our future kitchen began to take shape. By the end of the month, we were ready for the countertop measurements to be done.
In May, we had a brief respite from working on the kitchen now that the cabinet measurements were done. But the reality of living in chaos was also beginning to take it's toll. After a few delays around locating a slab of honed Carrara, we were finally able to schlepp out to New Jersey to look at marble. This was made easier because they only had a single honed slab available for us to choose from, which happened to also be quite beautiful. Then we took a much needed vacation to Seattle where I spent my 20's and early 30's. I got to show my husband my old stomping grounds and he got to see the beautiful Pacific Northwest for the first time. The weekend after our return, we schlepped back out to New Jersey to lay out the different countertop pieces on our slab. Fortunately it was large enough (barely) to cut out all of the needed pieces.
In June, we finished the cabinet installation and trim out for the sink/stove wall, created and installed the crown molding on the cabinets, and by the second week of June, the first pieces of marble were installed. Finally, we had a functioning albeit unfinished kitchen. Five months without running water was totally worth the wait. The following week, came the second install of our marble, the back splashes. At this point, we really felt like we were getting there, but we weren't there yet. The next hurdle was acquiring the textured glass for our upper cabinets and more priming and painting to get the upper cabinet doors ready to install the glass and then be installed.
In July, with our annual week in Ptown coming up, we were in the home stretch with completing phase one of the kitchen. During the holiday weekend, I completed installing the glass doors and by the end of the holiday weekend, we were officially done(ish) with phase one and were able to cook in our new (still unfinished) kitchen for the first time since January. Finally no more meals out seven days a week.
August, September, October…. Things began to shift. By August, I was exhausted by all of work done up to that point, and my workload had been steadily increasing since spring with no end in sight. I managed to take a week in September and got a good solid start on phase two (the other side of the kitchen) with the installation of the bead board, and priming and painting the cabinets for that side of the room. Then things slowed down even more in October as my work-life balance became even more unbalanced. But we still had hope.
I will wrap up the status of the kitchen further down, but outside forces (work included for both of us) began to impact our lives by early fall, and ultimately create a true shift in our lives. You've read this far, so bear with me as I state my thoughts and opinion on the current state of affairs and I will get back to the plans for our apartment. WARNING: The following is my opinion and I stand by it. It also has nothing to do with home improvement or renovation, but I can't just sit and say nothing. Skip down for the apartment updates.
I'll set aside aside the fact the my work load grew heavier than ever over the course of the year, throwing me into the depths of both mental and physical exhaustion in ways I have not known for many, many years. This has been a big factor in my mood of late as well as my excuse for lack of progress on the kitchen. But ultimately, the events of the past seven weeks, beginning on November 8th, have had profound implications on our lives in ways I could never have imagined. When I wrote my last post five weeks ago, "Things are Just Different Now", I only scratched the surface of how I feel my world, our world, the world; will never be as we have known it to be going forward. I realize that is not a very optimistic viewpoint, and I have worked very hard for much of my life to turn myself from being a pessimist into an optimist. But I cannot live in denial of how I feel about where things are headed.
It is my opinion that we are shifting from being a democracy of the people to becoming the minions of an authoritarian, totalitarian government and most folks are either oblivious or just don't care. It is my opinion that we are going to experience a period of governmental misinformation, sanctioned secrecy, well crafted propaganda, and bold faced lies, all for the benefit of a few. If I am wrong about this, then we have nothing to lose, but my gut tells me to "Gird my Loins". My gut tells me I need to prepare myself for a very different future. As a white male, it is indisputable that I have a certain level of privilege, but as a gay white male, I am a minority, and as a minority, there is much cause for concern.
As much as I cannot wait for 2016 to be over, I am also apprehensive about what is to come beginning January 20th. However, given my limited ability to personally alter the future, I can only do everything I can to embrace the changes coming and make the best of the worst situation. This involves rethinking everything and taking inventory of our current lives. Yoav and I are both very much on the same page about things (which explains why we have never had an argument). Together we have made some decisions which will be revealed over the course of the coming year. They are big! They are scary! They are also very exciting! In the face of what we see as some very big challenges for our country, we are both very optimistic about the new adventures and experiences awaiting us in 2017. We hope you will come along for the ride.
---
Back to the apartment….
OK, as promised…. There are updates. This is after all, a blog about the adventures of finding, buying, renovating, fixing up, restoring, DIY'ing, and decorating a part of New York housing legacy. In spite of my lack of time and energy this past five months, I have managed to make progress.
We completed phase one of the kitchen in June, and are sitting at about 75% complete on phase two, which I hope to have completed soon (oh please dear God, let it be done soon). The third and final phase of the kitchen, building out my workspace, has been put on hold for now. We have decided to prioritize other tasks such as crown molding in the living room and painting the bedroom and bathroom.
To catch you up on phase two (the other side of the room). We have completed the installation of the cabinets, counters, trim moldings, and such. It looks amazing. Soon, we will have the refrigerator back in the kitchen with the ice maker/water dispenser hooked up (finally) and we will have wrapped up the installation of bead board wainscoting around the rest of the room. The only other big project is stripping woodwork and doors. The jury is still out on how we are going to handle it, it is going to be a big task whether we elect to do it ourselves, or have it done for us.
Once the kitchen is wrapped up, I will get busy with the crown molding in the living room. This is a project that is close to my heart and something I have wanted to get done from the beginning. But more on that as we get closer to it.
So there you have it, my year end wrap up. It has been an amazing year, it has been a terrifying year, but I am over it. In the end, I can say only one thing. In spite of all the chaos going on around me, I live a life of gratitude. No matter what comes our way in 2017, I will always try my hardest to make the best of whatever situation I am thrust into… And will always do so with an added dash of style and personality.
As a final note; you are welcome to leave your thoughts and comments below. First time commenters are moderated. I will gladly allow any comment that is reasonable in nature, adds to the conversation and is not an attack on me. I will also remove any comments, which I deem as not contributing to the conversation. Not fair? Sorry…. It is my blog.