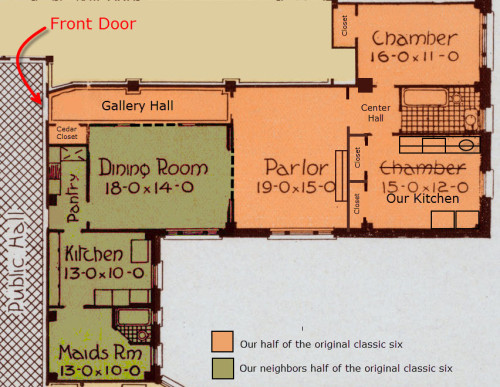 [Image: This is how our original classic six apartment was built in 1910. In the middle of the last century, it was split in two. We now own the orange portion.]
When I tell people we live in one half of a former classic six, I usually get a look of puzzlement, even from seasoned New Yorker's who usually understand what a classic six is, but can't grasp what the hell I am talking about when I say we have a "Half Classic Six".
To help clarify, I created THIS PAGE which further explains our Half Classic Six and How It Got That Way.
To feed my inner geek, I have also been reading about the history of the Upper West Side (and nearby Morning Side Heights) as well as some interesting articles on the history of New York City co-ops. I can say I have not only learned a huge amount about how things got to be the way they are now, but I have also filled my head with thousands of tidbits of useless knowledge nuggets about the Upper West Side which are sure to come in handy in future postings.
I have listed some of my recent readings below for those who may also be curious about how things came to be the way they are on the Upper West Side of Manhattan.
Article: The Cooperative Century – A Historical View of Residential Co-ops by Lynne Goodman, Published: June 2000 (The Cooperator – Trade Publication) This is a great easy read article that explains how NYC came to have so many coops.

Article: The Anatomy of a Co-op Conversion by Iver Peterson, Published: March 27, 1988 (New York Times – subscription may be required to access article) This article from the New York Times focuses on a single coop conversion in 1988. Very interesting read and a sense of drama.
Book: Upper West Side Story: A History and a Guide by Peter Salwin, 1989 (link goes to Amazon) Easy read on the history of the Upper West Side with a lot of information on housing as well as culture and community. The chapters about the high crime days in the 1970s is really interesting.
Book: Morningside Heights: A History of Its Architecture and Development by Andrew S Dolkart, 2001 (link goes to Amazon) This scholarly study of the history of Morningside Heights goes deep into the history of Morning Side Heights religious and learning institutions as well as an incredible history of housing and neighborhood development. We don't live in Morningside Heights (we are not that far north), but much of what is written about housing was also prevalent in our neighborhood.
The above articles and books are also included on my More About New York City Apartments page.