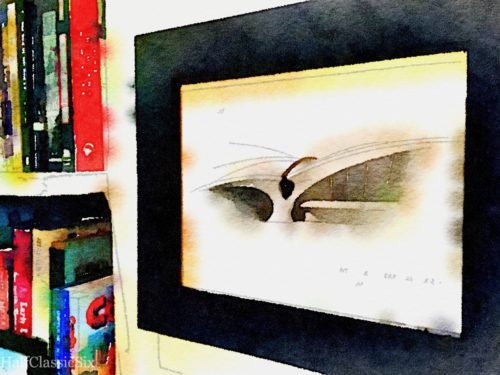 For those who have wondered about my whereabouts of late, I can assure you I am still here. Half Classic Six has admittedly been on an unofficial hiatus of late, but there is progress and a lot of really huge changes coming over the next six months.
I will address the hiatus first…. As life does, things have taken an interesting turn this year and much of what I had planned on working on at the end of last year was put on hold while other life changes have been going on. I am not ready to share the details just yet, but there are big changes ahead which include some surprising changes at our Half Classic Six. Have no fear my dear readers, Yoav and I are both very excited about our future and looking forward to where life is taking us.
In the meantime, I wanted to post a few pics of the goings on here at HC6.
Bathroom Update:
Status: In Progress. The plan for the bathroom is to play up the existing black and white tile and carry the black and white throughout the space. I have worked on it bit by bit. Starting in April, my first project was to replace the old tile windowsill with a nice large bull-nosed slab of oak. I found this one inch thick slab of oak online being sold as a stair thread. Conveniently, it already had the bullnose on it. Yay! Using a hammer, I carefully broke out all the ugly tile to make room for the new sill.
Once the tile was removed, I undercut the side window casings, and after several cuts, carefully slipped the new piece in, under the casings.
Then, once I had it cut and fit correctly, I primed it, installed it, and caulked around the edges. I then painted the sill using Benjamin Moore's Onyx Black. Love This Color!
Then it sat….. And sat….. Every time I would use the bathroom, I would think about how I needed to get busy with the rest of the work and finish the room…. And as soon as I was done with my business, I then promptly forgot about my project until the next time nature called.
Finally, earlier this summer, I painted the entire bathroom using the same white I have used elsewhere, Benjamin Moore's Chantilly Lace. I love the purity of this white, it ties to the white tiles very well. But also… To know me is to know I do not do off whites… Ever! They're just too close to the most evil of all colors…. Beige. I painted the entire large window frame in the same Onyx. It really looks great!
I still have to finish painting the inside of the door, install the new shower curtain track, and the new custom vanity with sink. That should be done soon and I will do a reveal post on it for sure!
Crown Molding Update:
Status: Finished! Woo Hoo! Originally, our living room had a lovely swan's neck plaster crown molding which was unfortunately stripped out when they divided the original classic six apartment into two units (hence Half Classic Six, for those who weren't aware).
I began working on the crown molding in the spring (and posted a shot in May) and after completing the easy side of the room (little furniture to move), I promptly stopped working on it. Well, actually I had to postpone working on it until after a trip out of town for a wedding, followed by our annual week in Provincetown. But as of last week, I am happy to say that it is finished!
This is my first time installing crown molding, and as you can guess, the walls and ceiling are very far out of level and some of the corners were quite the resuscitation of my math skills.
Other projects:
What else is going on? Lots!!!! The bedroom will be getting a paint job soon. I decided that we needed to hire out painters for this as I haven't had the time to get to it, and I needs to be done. We are also wrapping up the last few items for the kitchen.
What's next?
For the moment, HC6 will remain unofficially on hiatus. But just because I have not been as actively posting this year as I had previously, it doesn't mean there aren't things to share. Stay tuned!
SaveSave
SaveSave
SaveSave
SaveSave
SaveSave