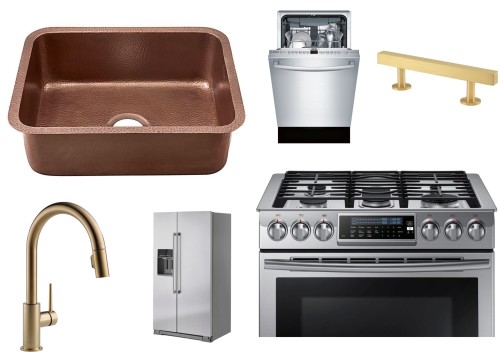 This is the third post in my series The Final Kitchen Plans. In my first post, Part I, I talked about how our final plans evolved to using materials we had either never considered or previously just written off and said no to. I kicked off this series about our finalized plans for materials and space plans, I recapped our very exciting flooring decision from last week, and then went on to reveal that we are not going to go with subway tile, but instead will be installing 4.25 inch beadboard planks as wainscoting around the entire room. In Part II, it was all about cabinets and countertops, how we ended up ditching IKEA and going with a more traditional plan, and deciding to defy the naysayers and go with white marble countertops. Now in Part III it is all about using mixed metals in our hardware and appliances. So kick back and read my post about hardware and metals. It doesn't get much more exciting than this folks (I'm lying, it can only get more exciting).
Not sure where to begin on this…. Copper? Gold? Brass? Really? Who'da ever thunk? I have always been a fan of cool silver tones when it came to metals in my home. I even chose white gold for our wedding rings because I didn't want gold on my finger. But as I began to look at the details in the images of kitchens which captured my heart, I discovered that nearly all of them had warm metal tones within them. Never in my life did I ever imagine I would want anything to do with the color gold or copper, I always assumed I would be deciding between nickel, or stainless, or chrome finishes. Now my general distaste for anything other than silver toned metals has evolved as I discovered that brass, copper, and other warm gold tones can be absolutely beautiful! They add warmth to a space where cool silver tones just can't.
The first place I decided to use warm metal tones was in the cabinet hardware. Last year when we were planning to use IKEA cabinets, I found I really liked their antique brass hardware, which was a surprise to me at that time (I was still evolving). Now when I say brass, I am not thinking about the heinous polished brass of the 1980's Donald Trump era… I am thinking aged brass darkened by time, but with the brass tones shining through in the worn areas. Then earlier this year I discovered the Lewis Dolin line of brass bar pulls and immediately knew they were the right ones. They have a brushed finish and look amazing when held up against the Farrow and Ball Stiffkey Blue cabinet color. I do hope they darken a bit with time. Of course, I have since stumbled upon the Lewis Dolin hardware being used in several kitchens, which just means I am not alone in loving them. Another area where this plan to use warm metals really evolved was with our kitchen faucet. Last year when we set up our temporary kitchen, we invested in a very nice nickel faucet which we both love. But as our plans for the kitchen began to form, I realized but this nice faucet will not fit in with the new space very well. The search for the perfect brass faucet began and then ended fairly quickly. There are some absolutely stunning brass faucets out there, but I am partial to single hole faucets and having a pull out sprayer is a requirement that Yoav made very clear, so that eliminates the vast majority of them. Then there is the issue of price. Quality faucets made from real brass are really expensive! There are a lot of affordable brass plated faucets, but when it comes to plumbing and water pressure, I will never go with an unknown brand… This is how I ended up deciding on the Delta Trinsic Collection in Champagne Bronze. Yes, this is not solid brass, but it does meet all of our other requirements, we can afford it, and Delta is a brand I trust to not flood my apartment as well as those of my neighbors below me. Then there is the sink. First priority, it must be under-mount. I have never had one, and have lusted after them for a very long time. Finally, we get to have one…. But, if we are going to use a gold toned faucet, the idea of a stainless under-mount sink suddenly seems wrong. I thought about using a white porcelain finished sink, but I kept remembering how easily things break in porcelain sinks. Then I began to take notice of a few very beautiful copper sinks featured in my beloved British kitchens. Not the shiny new penny kind of copper, but aged copper darkened by time with a nice patina.
Thinking they cost be a fortune, I started looking at copper under-mount sinks for sh*ts and giggles…. But I happily discovered that they actually are priced in the same realm as quality stainless steel under-mount sinks. Then there was the fear about maintenance after reading about them being a lot of work. But again, more research told me that yes, there is some maintenance, but the best thing you can do is just use them and allow them to develop a lovely brown patina as they age. There will be occasional spots from acidic foods, but those spots will disappear with continued use (and be replaced by new ones). I can live with this.
As for Yoav and the use of brass, copper, and gold metals? He also evolved (like Hilary) and as I gradually showed him those beautiful kitchens utilizing gold and copper tones, he also began to see their warmth as well . Does he like them as much as I do? Well, perhaps not quite as much as I do, but I believe when we are done with our space, I will have converted him.
So, after having just read all about my evolved desire for gold and copper tones, I am suddenly going to upend everything I just said about silvery metallics, because as far as appliances go, we went all stainless steel. Which raises the question: Can mixed metals work? I think yes, but it depends on the execution more than anything. Why did we go with stainless appliances?… OK, this needs to be addressed. The latest appliance trends are shifting away from stainless steel towards colors (remember colored appliances?) As much as I would like to make that shift to colored appliances as well, they are still very expensive, and we can't justify getting fancy colored appliances.
Just having new appliances seems pretty fancy to us. I have only had all new appliances once as an adult (Yoav never has). It was about 13 years ago, when I bought my loft in Chicago. I had the luxury of getting all new appliances and it was a major upgrade for me as it was the first (and only) time I have had such luxuries as an ice-maker and a dishwasher (of course those are a given in our new kitchen). When it came time to choose appliances, the developer had two packages of Whirlpool appliances, both available in black, black, or black (I chose the one I could afford, in black). Stainless was still a luxury item in 2002. Over time, demand has flooded the market with stainless in all price ranges, so at this point, we will have stainless… Even if it means being on the tail end of a trend.
In addition to going stainless, we also have the luxury of getting a full-sized range and refrigerator. This is a big deal in New York City. Many multi-million dollar apartments are stuck with tiny kitchens sporting downsized appliances. The previous owner of our apartment left us with very basic, landlord low-end quality appliances. They were white and standard sized, but they were also filthy dirty (how do people live like that?). It wasn't long before they were gone. Thus the hunt and need for a standard sized range and refrigerator began.
When it comes to ranges, I have never been a fan of the control panel thingy sticking up in the back of ranges behind the burners. I get that it helps with child safety, but our child is four legged, lacks the dexterity to turn knobs, and can't even jump up on the sofa, so there is no need to put the controls behind the burners. I have long lusted after the built-in look of the slide-in gas range. I like that it is surrounded by countertops on three sides, and I love the uninterrupted built-in look. Our budget for our range was $1,500, and although there were nice enough ranges in that price range, they all felt cheap to me. Then, on the Monday before Thanksgiving (2014), I saw the Samsung Slide-In Gas Range with True Convection/Self Cleaning oven [NX58H9500WS] was $1,000 off of the list price of $2,495 and with a couple of clicks on the keyboard, we scored a very highly rated full featured range with free delivery while maintaining our budget. We have been sorta using it for the past year, I say sorta, because there isn't enough electricity on that side of the kitchen (yet) to fully utilize the convection oven features. But damned if it isn't pretty!
As for the fridge… We scored a good deal too…. It is the (now discontinued) IKEA NUTID S25, counter depth side by side with tower LED lighting (they sell a lower end version now for much less $$). We love it for several reasons…. It is counter depth… Nothing worse than standard depth fridges (which tend to be as much as 35 inches deep) protruding onto valuable floor space in one's kitchen. We also love that it is a true side by side… We both hate the idea of digging through baskets of frozen goods while bent over a drawer, and I see nothing but maintenance issues with those French door contraptions. It has an ice-maker and filtered water dispenser in the door…. A first for both of us! Woo Hoo! As for myself, I am totally in love with the integrated
Tower LED
lighting. When you open the main door, there are seven strategically located LED lights flooding the whole interior with lots of light including the insides of the drawers (There are three in the freezer). And finally as a bonus… IKEA contracts with Whirlpool to manufacture their appliances. However, unlike Whirlpool's standard one year warranty, IKEA warranties their (Whirlpool made) appliances for five years. At $1,895, we got everything what we wanted at a fairly good price.
The dishwasher…. We haven't purchased our dishwasher yet, but we already know it will be a an 18 inch Bosch 800 Series Hidden Control Dishwasher (SPX68U55UC). We may have a large kitchen for New York City, but we are very limited in the available space to fit a dishwasher in. And… We are only two people, so an 18 inch dishwasher is totally adequate for us. The only challenge with going for an 18″ instead of the full-sized 24″ is that there seems to be some unwritten rule that non-standard sized appliances come in two versions. Super cheap crappola or super expensive quality stuff, there is usually nothing in between. There is already a premium added to the price for having a smaller size (just like counter depth refrigerators tend to be 25% more expensive for taking up less space), low-end brands such as Danby and Avanti can be had for $400-$500. Maytag's, Whirlpool's, and GE's aren't much better, and can run $600-$750. Trouble is, they are all loud, they are mostly ugly, and all still are basically crappy. BTW, when I say loud… These brands average 55 decibels which is pretty loud for a dishwasher. The supposedly fancy GE Profile model generates a whopping 60 decibels of sound and costs over $800! Yikes!
At the high end there are really only two options. Bosch and Miele. The Miele is lovely, but at $1,300+ it is way too expensive for us. However the Bosch at $899 is not only beautiful, but at only 45 decibels, it is also the quietest dishwasher being made. That means that when it is running, it is nearly silent. We both love that the controls are hidden in the top of the door, and I love that it has a third rack for flatware (something I have lusted after since first seeing it on standard dishwashers a dozen years ago).
So there you have it. Mixed metals do work! You can mix warm brass and copper tones with stainless steel and have a harmonious space to work in. Hopefully, at this point, you are still awake as super excited as we are! In Part IV, it will be all about lighting…
This post is part of a series about our final plans for the kitchen remodel we are beginning in early 2016. You can view all of the posts in the Finally — The Kitchen Plans are Final series HERE.