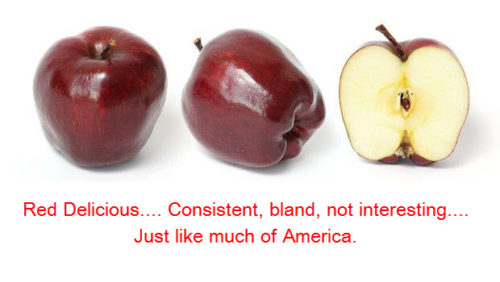 Why America? Why????? Why?????
Why must so many American's be so f*cking boring when it comes to style and design?  Why is our country always ten years behind Europe before finally adopting new ideas?
Last fall when we were at Ikea Elizabeth to order a kitchen for both the rental and for us, we found out they were discontinuing Akurum, the cabinet system they have sold in North America for the past 20 years and introducing a new system in February of this year. We managed to order a kitchen for the rental (after a last minute change to the door style), but much of what we wanted for our new kitchen was out of stock and with no idea when it would return, we decided to do a very temporary kitchen and wait to get the new stuff… The good stuff….
Ikea introduced the really beautiful new kitchen cabinet system called Metod for the entire planet earth last year, except of course for North America (it's those damned inches instead of centimeters). This is the biggest change in Ikea kitchens in over 20 years as the underlying cabinet system is entirely new.
Looking at the Metod cabinets on the Ikea UK site has been exciting to see what we were likely to be able to get for our kitchen. I was really excited because Ikea dumped the ugly light brown wood effect frame for a stunning black wood effect frame (they continued the white frames) and suddenly my dreams for our new kitchen got really delicious!  Yoav and I both got super excited about the possibilities awaiting us in the spring.
Que…. Months of patiently waiting…. And waiting…. And finally coming next month, we finally get to see the new cabinets for North America which will be called Sektion (Available beginning February 2nd). I was surfing my old favorite design blog, Apartment Therapy, when I saw they did a post on the new cabinets today. Before I finished reading the whole post, I excitedly posted a comment about how anxious I was to plan our new kitchen….. And then I looked a bit closer at the photos of Sektion and discovered my worst nightmare…. CHOCOLATE BROWN FRAMES!
So, it turns out that instead of the beautiful black wood effect frames everyone else gets to purchase, we get the dumbed down for stupid boring Americans version and will be forced to choose white (which already existed) or UGLY SHIT CHOCOLATE BROWN frames. All the while, everyone else on the entire planet gets the option to choose really cool black (wood effect) frames.
Why does this matter? It matters because (and this is just my opinion) once again the puritan values that America has historically clung too translate into boring and bland design for the masses. (Sorry Canada, you are being dragged into this the mess too.) Americans are a terrified bunch… Fearful of anybody or anything that isn't just like themselves, fearful of change, fearful that anything new must be bad or evil. (Yes, this is a complete generalization, but there is absolutely truth baked into my assertion.) Unfortunately this fear holds us back…. So when Ikea, a big international player in providing well designed goods to the world is forced to tweak their product for the American market, it is embarrassing to say the least that the tweak was not so much an issue of converting metric components to our very archaic US Customary Units, but about "dumbing" a product down to appeal to a shall we say lesser enlightened population when it comes to design.
Examples:
I am beyond devastated….. Gutted in fact. After months of patiently waiting for our new kitchen, iteration after iteration of what the hell we are going to do for our new kitchen, I find out the kitchen I had been dreaming about won't in fact be available to me short of ordering a metric kitchen and shipping it across the pond (not a realistic option).
I will recover…. You can be sure of that…. Yoav and I plan to be on the first shuttle bus to Ikea Elizabeth on the first Saturday in February (note to stalkers, be sure to introduce yourself!) to actually see the new kitchens….
Maybe, just maybe, it wont' be so bad once I can lay eyes on the real thing…Or maybe I will fall back on white interiors (which would have been my choice had they never teased me with the possibility of black wood effect in Europe).
Fingers crossed…. More to come!
UPDATE: 11/04/2015: After many months of just not being happy with trying to force IKEA cabinets to fit within my space, I discovered another option which will provide a huge upgrade to my IKEA plan. Read about it here: Rethinking the Kitchen