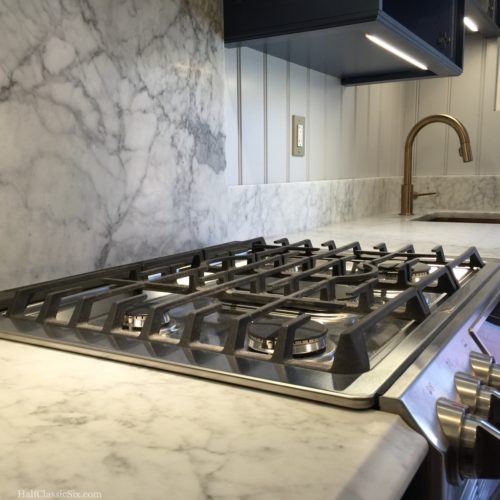 Oh Yeah! This is our new reality and it is Cold, Hard, and Beautiful! It's Marble Countertop Reveal Time!
Our kitchen may still be unfinished, but ten days after the second marble install was finished, I find myself in awe every time I walk into our kitchen. I also find myself freaking out about spilling wine, or tomato sauce, or lemon juice, or any other threat known to honed marble… But rest assured, it will be fine.
Earlier this week, I posted about completing my list of To-Do's from the end of May, moving them over to our Ta-Done list. I also covered the first of two marble countertop installations, albeit not with much focus. That was because the first install involving the countertops was a huge turning point in our project, but it was the second install when our backsplash was completed that really made the space sing. Unfortunately, Yoav was in California for work and missed the whole thing until he got home this past weekend.
The installers arrived with the four pieces of honed Carrara marble which make up our backsplash. Within less than an hour, they were gone and I was left standing alone in awe of the beauty of it all. Our kitchen is turning into something I would expect to see in a magazine, certainly not something I would have ever imagined having in my own home. This is where doing our own work and having patience has really paid off. We have finishes and materials which would otherwise have been well beyond our budget.
So, whats next? Back in early April I went into details about deciding to break our kitchen project up into three phases. The sink wall, the refrigerator wall, and my workspace. The biggest and most crucial of the three has clearly been the sink wall. The sink wall has of course, the sink, but it also has the dishwasher and stove, and the majority of counter space and cabinet space, so getting it done meant we could have the basic functions of a kitchen (with the refrigerator in the living room of course). I am excited to say that we are now sitting at about 85% complete for the sink wall.
What's left for phase 1? Here is a list:
Prime and paint the upper cabinet door frames
Install textured glass into the doors
Install upper cabinet doors
Install accent lighting
Fabricate and install toe kicks
Finish trim-out on wainscoting
Our goal is to have cabinet doors and accent lighting completed by the end of the July 4th weekend (hopefully). This would put is at about 95% complete for phase 1. Only the toe-kicks and finish trim remain, and I will come back and finish this after phase 2 has been completed.
Phase 2 will begin after we return from our annual week in Provincetown, MA next month. I will be back to the priming and painting of cabinet parts, although this should go much faster than the sink wall with only having 1/3 of the cabinetry, and drawer fronts that were finished when I did the ones for the sink wall a couple of weeks back. I will also be continuing the wainscoting around the room and making custom shelves to go above the refrigerator.
Once phase 2 is wrapped up, I can finally begin working on phase 3, my workspace. This is not something I have talked about much, but it is pivotal to our entire kitchen plan and as we get closer, you can be assured there will be more details to come. Also in phase 3, I will be finishing out the trimwork for the wainscoting, toe kicks, baseboards, etc… And then (hopefully) what we are now calling "The Year of the Kitchen" will finally be wrapped up, and we can begin to enjoy our home again, and entertain again.
That's about all I have for now….. So, I'll leave you with a few more shots of the marble countertops…. And a surprise shot at the end.
And now surprise shot…. When I arrived home from work yesterday (Thursday), we had a very large package from Wholesale Glass and Supply in Southern California waiting in the lobby…. It was our nine pieces of textured glass for the upper cabinets. Everything was very well packed, and nothing was broken. Funny, they could ship 40 pounds of glass across the country for $123, when the online glass place (whose name I won't mention) located in Pasaic, NJ wanted more than $400 to truck the same glass order 21 miles to our home.