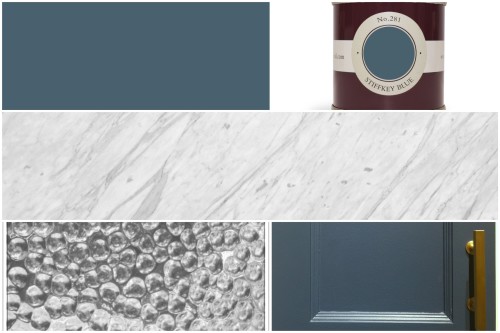 This is the second post in my series The Final Kitchen Plans. In my last post, I talked about how our final plans evolved from initial ideas and plans into using materials we had either never considered or previously just written off. In my first post, I kicked off this series with a high level outline of our finalized materials and space plans, I recapped our very exciting flooring decision from previous week, and then went on to reveal that we are not going to go with subway tile, but instead will be installing wide plank beadboard as wainscoting around the entire room. In Part II, it's all about cabinets and countertops!
As previously written about, our initial plan was to use IKEA cabinets. This always seemed like a no brainer because I had installed IKEA cabinets in past kitchen updates and just last year installed an entire IKEA kitchen into our rental unit (which I will write about one day). So until this year, it never crossed my mind to use anything but IKEA cabinets. But when IKEA discontinued the AKRUM line (after more than 20 years) and replaced it with SEKTION, I was very disappointed with the decision to replace the black/brown cabinet frames they sell in every other continent around the globe, replacing it instead with hideous and boring brown frames. After letting my anger about the ugly brown cabinets die down, I gathered my wits and decided to just accept the white interiors and go with IKEA anyway. Why? Mostly because I love all of the custom organization inserts they have for SEKTION.
It was at this time that my deep love of the traditional in-frame cabinets readily available in the UK caused me to question my decision, but then I discovered
SemiHandmade Doors
. A company based in LA that makes custom doors for IKEA cabinets. While they were not my beloved British in-frame cabinets, they were none the less beautiful and best of all they looked nothing like IKEA on the outside. This, I felt was an acceptable compromise. I once again began planning my kitchen with the IKEA online planner using SEKTION, and then made a detailed list of which doors from SemiHandmade I needed. When
I wrote about my plans
last June, it seemed like this was the best option. but, as time moved forward and our kitchen was delayed, I began having more doubts. No matter how much I tweaked the plans in the IKEA online planner, I kept having to make compromises to what we really wanted.
In early September, Yoav and I were on the IKEA Shuttle from the Port Authority to the Elizabeth Store and as we arrived at the store in Elizabeth, we saw a sign on the door saying that that weekend was to be the final weekend of the shuttle service from Manhattan to Elizabeth. After 20+ years of carrying Manhattanites to and from New Jersey to load up on IKEA stuff, they decided we don't matter any more. In the past four years alone, I had made 13 trips to IKEA Elizabeth on that shuttle, and spent more than $9,000 in their store. Now that they cancelled the shuttle, my feelings about IKEA began to sour. Yes, their is public transit from Port Authority, but it cost money, and isn't as convenient, and yes, there is a store in Brooklyn, but getting there is a schlepp and nowhere near as convenient as the shuttle was… I very quickly began to lose interest in buying my kitchen from them and I once again started looking for an affordable non-IKEA alternative to the in-frame cabinets I love so much (I have not been back to IKEA since).
Then, in late October, my kitchen world was turned upside down and everything changed when I discovered, quite by accident,
Barker Cabinets
. When I say turned my kitchen world upside down, I mean it….
I had never even considered anything but IKEA, and suddenly I was planning a kitchen with more traditional cabinets.
But what a difference that has made. Unlike the fixed sizes IKEA sells, Barker Cabinets allows for custom sizing in height, width, and depths in as little as quarter inch increments. This means that not only will my cabinets be the exact dimensions I need to fit within the space, but I also get to take advantage of the customization by increasing the height of our uppers to 48 inches, and the depth to 14 inches on the sink wall and 16 inches on the other giving us a huge amount of extra cabinet space. We also added two inches to our base cabinets giving us 26 inches of depth allowing for additional counter space and also making our counter depth refrigerator actually counter depth. Another element to the cabinet decision is that we want all of our upper cabinets to have textured glass doors. Barker Cabinets is very accommodating to our needs for this, so glass door uppers we will have.
None of these things would have possible with IKEA cabinets, not to mention the fact that Barker Cabinets are made from plywood frames and hardwood doors/drawers, whereas IKEA frames are all particle board. Yes, Barker Cabinets did cost us more than IKEA would have, but not really….. With the ability to customize the sizes of our Barker Cabinets, we were able fit additional cabinets into the plan which were going to be empty spots in the IKEA version of the kitchen, resulting in about 30 percent more storage space for about 30 percent more cost…. So in the end, they were really quite comparable price wise.
The final decision was about which design to select. If there is one thing about Barker Cabinets I am disappointed by it is that although they offer sixteen different door designs, none of them were quite what I wanted and unlike their custom door business (
BarkerDoor
), we were not able to pick and chose the various profiles to create the door style I would have preferred.
So, to find a compromise, we selected two different samples, one with a raise panel, and the other without. I liked the raised panel in the Seattle door in almost every way except that I did not like the outer edge detail. As for the San Antonio, I loved everything except I would have preferred a slant raised center panel. After priming and painting them in my beloved Farrow & Ball's Stiffkey Blue (No 281) [Read about how I discovered this amazing shade of blue], I put them on our Facebooks for a vote. The overwhelming response was the flat panel – San Antonio…. Which is what we ordered.
Now to the countertops. My first dream for countertops was go to with white honed marble… But it has its issues. I posted the whole saga about the countertops this past summer, but here is a recap. It was reasonably clear to me in the beginning stages of planning our kitchen that I did not want laminate or solid surface countertops (too fakey and cheap looking, and I HATE Corian). Nor did I want the now ubiquitous granite that has shifted from a luxury material to a commodity for the masses (I am so over granite). We looked at quartz composite options, several of which mimic marble and are considered much more durable than maintenance heavy marble, but none of them captured the feel of the real thing (partly because I want a honed finish, not shiny). Also, it seems to me that quartz is the new granite, and in 15 years I will be tired of it.
Then we took a very serious look at soapstone. Because of the horror stories I kept reading about over and over with white honed marble, soapstone became a very viable option, especially because of my desire for the kitchen to be built with materials which would have existed at the time our building was constructed in 1910. I vacillated back and forth between what I wanted (honed marble) and what was practical (soapstone), the two materials are very different. Fortunately, cost wasn't an issue as they are both comparable to granite and quartz. Ultimately it came down to what I want… As practical as soapstone is, in the end I just didn't want black countertops. So honed marble won out and my dreams of having white honed marble countertops will be coming true. (Woo Hoo!)
When we made the decision to go with beadboard for our backsplash, it occurred to me that beadboard is probably not the best material to have behind the stove. Aside from the abuse to the painted surface from splatters, the grooves along the beads will be a big challenge to keep clean. So, if we don't want beadboard behind the stove, then what other options are there? Of course my first thought would be marble. I love the look of marble on the backsplash, especially when it is basically a continuation of the countertop wrapping up the wall. But Marble is expensive and not in our budget. Stainless steel? That is an option, and as it turns out, there are several places which sell stainless steel panels already cut to size for the very purpose of covering the wall behind the stove. I like the look of the diner style of quilted stainless, and with prices starting under $100, it is affordable. But the more I thought about it, the less I liked the idea of adding more stainless in the kitchen.
I looked at other ideas including marble tiles (less expensive), glass (too out of context for the rest of the kitchen), and even subway tile (um… no, just no). Then an idea was hatched. Last year when we were expecting to do a temporary kitchen, we managed to secure two large slabs of butcher block from IKEA with the idea that we would just go with butcher block in the temporary kitchen. This never happened, but we still have the two slabs of butcher block, some of which I plan to cut into beautiful shelves to go on the wall above the refrigerator.
I know what you are thinking…. Devyn wants to put butcher block on the wall behind the stove? Ha, that would be silly looking yes? But what about this…. The marble countertop next to the refrigerator is about seven square feet in size. What if I used the square footage planned for that area and instead used it to make a marble backsplash behind the stove, and then used the butcher block as the countertop material next to the refrigerator? This would give me my marble backsplash, and not increase the budget at all. It would also put the extra butcher block left over from the shelved to good use. Brilliant! Yes?
Yes, there are concerns about staining and oils, but again my extensive research has told me that it isn't so bad so long as I take a few precautions and ensure that the slab is sealed.
So there you have it, Farrow & Ball Stiffkey Blue (No 281) cabinets with textured glass upper doors and white honed marble countertops. Very traditional, very appropriate for our home, yet somehow retaining a fresh and contemporary feel. In Part III, it will be all about Hardware, Appliances, and the mixing of metals.
This post is part of a series about our final plans for the kitchen remodel we are beginning in early 2016. You can view all of the posts in the Finally — The Kitchen Plans are Final series HERE.