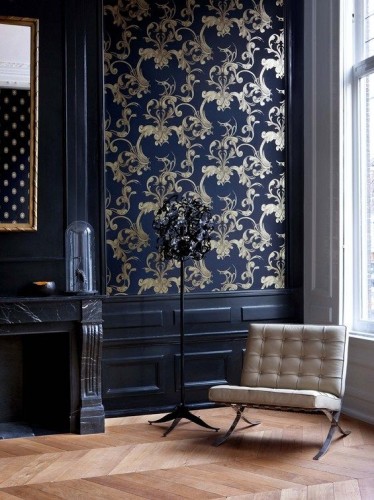 We are only days away from finally taking possession of the keys to our new home (I promise a video walk-through) and I've been dreaming about all the amazing things I can do with our 785 square feet. I am relishing the idea that I will actually get to decorate more than just the living room and bathroom of my prior 294 square foot studio. While our new home may only be a one bedroom apartment, I count six spaces to design and decorate. Four of them rooms (living room, kitchen, bedroom, and bath), the other two being our well-proportioned hallways. Our entry hall (the gallery) is 22' feet long and 4 ½ feet wide giving us 100 square feet of gallery space to display art and photography. The other hall is the center hall. This lovely small space has four doors and measures a comfortable five feet by six, giving us 30 square feet of transition space, just go to from one room to the next. This makes me giddy with pleasure to dream about how to decorate six separate spaces and keep them all cohesive to each other.
This also strikes fear in me as I am a modernist at heart and I will be working within a 100+ year-old space. I have always loved modern design, and have fond memories of looking through my mother's Apartment Life Magazines in the 1970s (I still have eight or ten issues) which focused on how to make life in an apartment comfortable and blend modern 70s design with old urban apartments. It was this magazine that helped form my love for New York and all of its non-traditional housing types (along with an issue of Architectural Digest featuring lofts in 1970s SoHo). In the intervening years, poverty in my 20s forced me to take on a shabby chic aesthetic and modernism took a temporary exit from my world out of financial necessity. But once I was into my 30's, modernism began to creep back in, and by about 2000, I was pouring over the DWR catalog pages drooling over modernist classics.
As much as I love modernism, I have long had a passion for old spaces. I think this comes from growing up in modern tract housing in the suburbs of California. My grandmother lived in an older house in the city (Sacramento) and I always loved the established feeling of her neighborhood. As a pre-teen, I remember longing for every opportunity to be downtown where the action was. Then as a young adult, I had friends who rented apartments in former Victorian houses, and when it came time to living on my own, I often found myself living in apartments mostly built before WWI. There was something about these old places that just made me happy, even when there were a thousand coats of paint hiding the details on the woodwork, or uneven walls and floors.
So here inlays the conundrum; how to respect the history of my very classic space, while ensuring my modernist roots are still watered and fed. I find it interesting, but not entirely surprising, that when it comes to our new home, I am gravitating towards restoration of the past elements rather than modernizing anything in the apartment itself. I have long-held a belief that a building should reflect the period in which it is built (which is why things like crown molding in a 1960s apartment looks downright stupid). Appropriateness and context is important, and I think some alterations should invoke criminal charges and prison time for aesthetic atrocities (such as installing 1970s horizontal sliding aluminum windows in an 1890s Victorian house)
When Yoav and I stepped into the long entry gallery and then the living room back in early May, the quality of the space immediately resonated with us. We were in giddy with excitement inside. We love that it was very old; we love that long entrance hall; we love the nearly ten foot tall ceilings (with coved plaster details in the secondary rooms). We also love the quarter-sawn oak floors with mahogany borders, the original decorative fireplace with mantle and the gigantic mirror above. We love the window frames with the original panels below the windows and heavy trim. We especially love the heavy mahogany doors (all nine of them)…. Most of which are more than eight feet tall, some with glass, some with transoms above, all (but one) with vintage French crystal doorknobs and the same heavy trim as the windows. Then there were the pleasant surprises…. Like the cedar lined guest coat closet in the entry gallery, the plethora of outlets, and the fact that all the closets originally had interior lights (in 1910!), and did I mention the nine doors!? this apartment has a soul like few places I have been.
How does this mix with my love of modernism? Well, I (we) have a plan…. The original 1910 interior of our classic six apartment was very Beaux Arts with lots of moldings, trim-work, and plenty of details. We plan to recreate certain missing elements appropriate to classic New York City apartment. But we also need to ensure that the space will allow us to live in the world of today. With my amazing husband's support (and complete trust), my plan will include adding back moldings and features long removed during mid-century modernizations (to make it more rent-able in the 50s). We also plan to add a few elements which were not original, but could have been, such as raised panel wainscoting in the entry gallery. I plan to remove the modern 5 inch tall baseboards in the living room and put back the eighteen inch tall base moldings which were stripped away.
There are a few other areas where we plan to recreate or restore the past. Before we move a single box in next month, we plan to have the floors sanded, stained, and finished with Bona Traffic. After we are moved in and mostly settled, we plan to redo the bathroom and kitchen (a change from our previous plans of doing these two rooms before moving in). In the bathroom, we will gut and finish the space in a solidly vintage style with modern elements (such as a glass enclosed walk in shower). In the kitchen, we plan to have custom cabinets made to recreate the original glass upper cabinets which would have been in our kitchen had it not originally been a bedroom (our kitchen was originally an 11×13 bedroom converted to a kitchen in the 1950s when the apartment was sliced in two). Eventually we plan to recreate the coved ceiling details and crown molding in the entry gallery and living room (also scrapped away in the 1950s) and then there the doors…. We hope to send them out to be dip-stripped and bring back the original mahogany wood finish now hidden by layer upon layer of paint.
So there you have it… This ardent modernist (and long time MoMA member) will be living in the past. At least that is how it will appear upon entry… But we will also be living in the present. The very old-fashioned kitchen will have modern appliances, there will be Bluetooth sound in every room, we plan to outfit every light fixture with LED lighting wherever possible, and there will most definitely be modern design elements, art, furniture, and accessories mixed with throughout.
I remember a specific article in one of my mother's decorating magazines in the early 1980s where they took a Victorian Row house in San Francisco, fully restored the original details, and filled it with very modern (for the time) furniture. I remember reading that article and feeling excited that one day I may own a Victorian and fill it with modern furniture…. Now decades later, I feel that dream coming true.