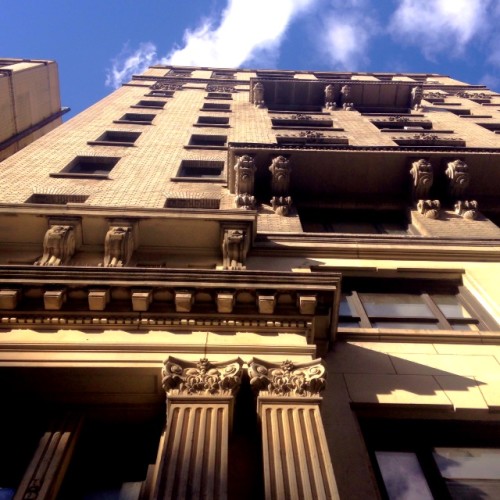 [Photo: Looking up at our Half Classic Six.]
Before the end of this month we will be the owners of our dream apartment… Or to put it more clearly, the dream apartment within our budget. And at the moment, all I can say is that as exciting as this is, it is very bittersweet at the same time.
When we sat for our board interview week before last, excited and relieved to finally be at this point in the long arduous process, I felt a familiar vibration on my butt from my phone and the tone of a Facebook message rang out. A bit embarrassed and thinking it was a reminder notice instead, I ignored it and went on with the interview.
The interview itself was lovely, we met in one of the board members apartments, and it felt very natural as the conversation flowed, we discussed things like managing budgets with such a diversity of incomes in the building (there are a few remaining rent controlled and rent stabilized tenants as well as original shareholders on fixed incomes, mixed with units which have sold for close to three million dollars), and how a well run building will have an increase every year to the maintenance (costs go up, never down). After about 30 minutes, we wrapped up the interview on a positive note with the board members all but telling us that we were in, and that they would send an email that night or the next morning.
We giddily walked the short distance to our current apartment and got online to begin sharing what felt like a very positive response with various folks involved as well as friends. About 10-15 min after arriving home my phone rang, it was coming into an old Google voice number which I haven't used for several years. I didn't answer cause I didn't know who it was (typical for me these days), but they left a voicemail.
This is where the bittersweet comes in. It was the NYPD calling about my best friend of 20 years, and informing me that he was dead. It turns out that after his roommate found him and called 911, I was the first person to find out among friends and family. While in a general state of shock, I was able to give the detective contact info for Stefan's sister in North Carolina, and the rest of the evening has pretty much become a blur in my head involving lots of phone calls, emails, text messages, and disbelief. (I wrote about losing my BFF in my previous post.)
The next morning started early because I couldn't sleep, and what started out as a way to reach out to his old friends on Facebook to message them to call me so I could at least tell them over the phone became an eleven hour plunge into the depths of social media insanity when his page exploded with messages of shock and surprise. It was just a bizarre day overall. As loathe as I am to Facebook, it became a tool to bring all of his disparate friends together for the first time and begin to mourn as a community.
We had hoped to find out about the results of our interview on that day, but the managing agent was out of the office and we would have to just wait. At that point, I basically turned the entire process over to my amazing husband to handle. I let him take the apartment related phone calls and answer the email messages and took the moment to step out of the process. I needed to just mourn. That night, a handful of his closest friends and I gathered at an underground sushi place in the East Village and commiserated while we sorted things out. All of us still in disbelief.
Then the next day I finally got some time to process… And we got the news that we were approved for the apartment. Bittersweet indeed. Excited, but just not able to feel it.
Fast forward to the present and although it took a few days to work out a closing date (the sellers attorney is on vacation), we will be the owners in less than two weeks. The excitement of our new home is finally beginning to settle in as the sadness of my loss begins to get easier to manage. I still have my moments, and I am sure I will continue to for a very long time. But I know that it is important to look to the future while appreciating all of the good things in the past.
One of my favorite memories of Stefan was back in 1995 when I rented a small three room (large to me at least) apartment upstairs and down the hall from his apartment on Broadway and Pike in Seattle (now a very "hipstery" area) we got together that evening after my getting the keys (along with a 6-pack of beer) and sat in my empty apartment talking about our hopes and dreams. I took several pictures that night, and one of him sitting up against the wall is one that we referred to many times over the years (he still had hair).
Three weeks ago on July 19th, Stefan took me out to dinner for an early celebration of my birthday. It was the last time I saw him, and we had an absolutely lovely evening together dining on Thai food on 9th Ave followed by a celebratory dirty martini at Therapy (a gay bar). During the evening we talked again about that night back in 1995, and he suggested we "re-live" the night in my new apartment (sans my husband) as soon as we closed. I thought that to be a great idea, just the two of us, my best friend and I, sharing a glass (or two) of wine in the empty new apartment.
This has been one of the hardest things for me to process since finding out about his death. We won't get to spend that night together in the new apartment. As hard as that is, I do at least have the fortune of knowing that he did get to see it. It was in May, the day after my wedding, our offer had been accepted, but because we were not in contract yet, the selling agent was obligated to have an open house. So, Stefan, Yoav, and my next closest friend from Oregon (who was in town for my wedding) and myself went to breakfast, and then went to the open house.
I will never forget the look on Stefan's face when we entered the lobby. What seems like an unassuming building on the outside, turns out to have an amazing lobby. Vintage 1910 and restored, the marble walls, stained glass windows and plaster ceilings made quite the impression on him. His jaw dropped as he exclaimed "Oh. My. God….., Is this for real?". We then went to the apartment filled with the tenants belongings and as he took in the classic details and generous feeling of space, he continually affirmed to me "This is the right place for you and Yoav".
When we parted ways a few weeks back, each heading to our respective subway stations after our wonderful evening together, we embraced and his final words to me were "Just like old times". And so it was…
Footnote: That vibration I felt on my butt as we sat at our interview…. It was Stefan's roommate trying to message me on Facebook, the only way he initially knew to contact me.