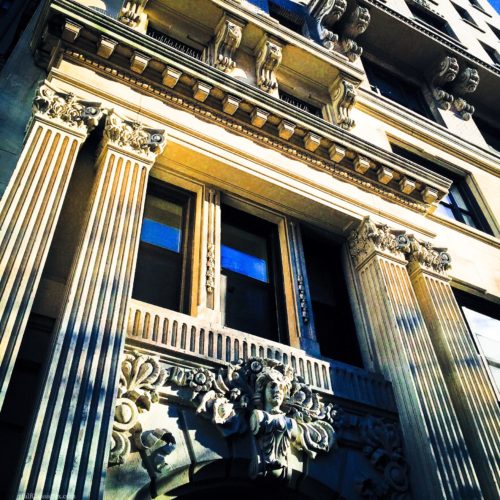 At some point this year, the kitchen will be done (Oh dear God I hope). Once we have reached that point, it will be time to restore some of the dignity which was either stripped away or covered under countless layers of paint over the past 100 years. We also have two unfinished rooms I am anxious to get started on. But the bedroom and bathroom plans will have to wait until my next post.
As noted in my last post, moving into a new space is more complicated for me (us) than for most folks. It is more than simply moving boxes into the apartment, unpacking the contents into existing storage, and calling it home. I don't just move in, I install myself into the space. I always have. My home has always been a direct reflection on who I am as a person. Not because I want to impress others, but because I want to create a space for myself (and Yoav) to come home to every night.
When we bought our apartment, we were purposely looking for a fixer upper because I love a project. As a child, I had dreams of restoring a Victorian house, which later turned into dreams of restoring an 1860's Italianate or Second Empire. (I discovered I am much more of an Italianate or Second Empire kinda guy.) Italianates, and Second Empires exist in New York City, but short of my winning the Mega-Millions, I will not be restoring one any time soon. That is why I love our apartment so much. I was thrilled by all of the projects I could see the first time we saw it. It may not be of the style I had dreamed of, but being built during the early 20th Century Beaux Arts period provides plenty to work with. That said, a true full on restoration is also not in the picture, it's just not realistic for many reasons. But bringing back the dignity of what was once here is very much a part of the plan.
I've always seen myself as a caretaker of whatever old space I lived in. I am but a temporary resident in the life of our apartment. There have been many people before me, and I expect there will be many who live here after I do. As beautiful as our Beaux Arts apartment was when it was completed in 1910, much of the dignity of the apartment is long gone. It was either stripped away completely when our unit was split in two in the middle of the last century, or just buried under dozens of layers of paint. My ultimate hope is to restore a fair amount of the architectural dignity to our space during my time there. Of course, restoring details takes time….
Side Note: During the course of writing on this post it became obvious that it is mostly referring me, myself, and my home. Allow me to clarify that my dear husband Yoav is still very much a part of the process. I may be the one who thinks up and executes the ideas, but nothing is done without his approval (well, mostly). He holds ultimate veto power (nearly always). A power he has used on more than one occasion, and a power which has wielded its own benefits. He is the one who chose Stiffkey Blue from our pallet of blues for the kitchen cabinets (I wanted Drawing Room Blue). When it comes to general decorating, Yoav may not be as particular as I am, but he completely supports my efforts and thoroughly enjoys the rewards of my creating a home for both of us.
OK, back to the point of this post. In what has seemingly turned into "The Year of the Kitchen", we do envision a day when the kitchen is finished. What a joyous day it will be to have the refrigerator out of the living room, and our art hanging on the walls again. God willing, that will happen before winter. In the pipeline awaiting the completion of the kitchen are two projects intended to restore dignity to our home. Crown molding and door restoration. Both of these projects will have a huge impact on our entire space and are in line with my long term plans formulated two years ago.
CROWN MOLDING
Top of the list will be crown molding for the living room for a lot of various reasons. Primarily because our apartment originally had lovely coved plaster crown molding in all of the public rooms, bedrooms, and hallways. We still have the simpler plaster cove crown detail in the center hall, bedroom, and kitchen (because it was originally a bedroom), but not in the living room or entry gallery. I want to bring back that level of elegance and grace so sadly stripped away.
The image above in the former living room (now bedroom) of another building by Neville and Bagge, the architects of our building, offers a glimpse at what the original "swan's neck" plaster crown moldings looked like when our apartment was built in 1910. The swan's neck refers to the deep inset curve in the plaster. Several of our neighbors retain theirs (at least in part), but unfortunately for us and many of the apartments in our building, the crown detail was destroyed in the process of splitting the units in two during the middle of the last century. Although not all of the units were split — there are some amazing original interiors scattered throughout the building. Me… Not jealous… At all…
Of course my first inkling was to look into restoring what was originally there. I did a bit of research to see what it would cost to replicate the "swans neck" plaster crown and yikes! Estimates ran about $80-$100 per running foot, which works out to about $6,000-$7,000 for the living room alone. Obviously way out of budget.
I next looked to various types of crown molding which are readily available at the big box stores. It very quickly became obvious that this was not an option either. Not because of cost, but because of scale and proportion. Moldings in the past were much more substantial in their size and variety, and as styles changed and value engineering became a driving factor, moldings became smaller in scale and proportion. The result amounts to the small soul-less trim pieces at the big box.
So what are we going to do? I'll be posting a much more detailed post about it when we get closer to the time of install, but essentially, we are not going to try and recreate the "swan's neck" detail, but instead will be going for a boxed in look of wood trim, not plaster moldings. This style is quite different from what was there, but it is most definitely keeping in line with what would have been done in 1910.
I will be going deeper into our crown molding plans as we get closer to starting our project, but in a nut shell, I plan to add one large piece of crown with added moldings above and below to create the impression of much more detail. I will also be painting them white, which will reduce the amount of black on the ceiling, which I anticipate will enhance the feeling of space in our living room. Our space won't look like our neighbors, but it will at least capture in a realistic manner what was once a very dignified element of our home.
DOOR RESTORATION
When we came to the open house in April of 2014 and toured our apartment for the first time, the real estate agent told us that all of the doors were original, and that buried under the countless layers of paint was mahogany. They also all had original hardware, including the octagonal cut crystal doorknobs. This was when crystal door knobs were still considered fancy before they became so very ubiquitous in the 1920s.
In all we have nine mahogany doors. Three standard 84" ones, of which one has been permanently removed., two tall French doors with ¼ inch plate glass which (at 99 inches) stand more than eight feet tall, and four closet doors, also more than eight feet tall. The door to the cedar closet (by our front door) is veneered on the inside in cedar and fortunately was never painted. Altogether, these doors would easily cost more than $10,000 to replace as they would all have to be custom made. It was these super tall doors which first grabbed our hearts when we saw the apartment for the first time.
Unfortunately, the doors have suffered a good amount of abuse over the years. Aside from the dozens of coats of paint covering the wood, they have been banged up, scratched, and scraped. Worse, a former paranoid tenant had deadbolt locks installed on several of them, including the French door from the entry hall to the living room.
When we first moved in, I had fantasies of taking the doors down, one at a time, stripping them and restoring them to their original glory. Now that we have been here for two years, I have come to realize how much of a fantasy it was. The limitations of doing this work by myself is truly unrealistic at best. This is because living in a one bedroom apartment has its limitations. Any kind of work I do, must be done within the confines of our apartment. Since I have no spare room or a basement, a garage or any other space to do all of the work, I am left with the living room. And if I did take this on, it would literally mean months of stripping and chemicals, and mess, and toxic fumes, and major disruption.
Enter Dip-Strip! What is dip-strip? It is essentially the process of taking your doors offsite, suspending them in a tank of toxic chemicals to dissolve the old paint, and then having them returned to you as bare wood. Although very common in the United Kingdom (of course it is) it is relatively obscure here. We are going to explore having all of our doors dip-stripped and also repaired and restored. A bit of initial research brings up a couple of places which do this in the area, so we will get quotes. We will also look at getting quotes on having the door moldings (and maybe the window moldings) stripped on site as well. While nowhere near the cost of renovating a kitchen, it will not be cheap, but we have given a lot of thought to it, and we both feel the benefits will be worth it. Restoring our doors back to finished mahogany will make such a huge difference in the feel of our home. It will also add value should we ever choose to sell. Best of all, the original mahogany doors will be one of the things that will make our home special and of course they will be so beautiful!
Our plans beyond the crown molding include recreating the multi-layered wood panel moldings in the living room, and more crown molding and base boards for the entry gallery, but those projects are a lot further down the line (as in a few years). Installing crown molding in the living room and restoring our doors will go a long ways towards recapturing the dignity our home once had.
Next post will be another Beyond the Kitchen post and the focus will be on the two unfinished rooms which I am aching to finally work on. I will explain more next week, but I have been planning the bedroom and bathroom for quite a long time. I have also been acquiring furniture and accessories over the past six months and can't wait to put them to use.