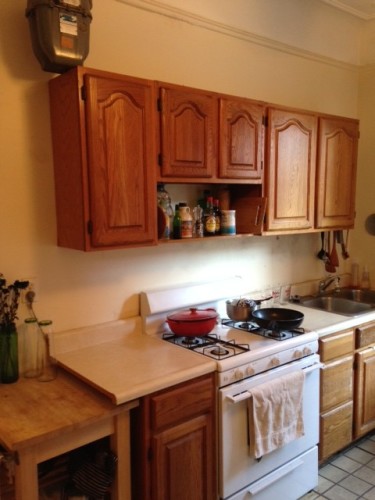 It was a mostly sleepless night after we saw the half classic six that week before our wedding, but by the time we got up on Monday morning, we knew we wanted to go back. We called the selling agent and scheduled a second visit for that next evening and upon arrival, spent a good 30 minutes looking the place over.
The apartment was a true fixer-upper, it was fairly priced (much less than the over budget two bedroom railroad on 108th that I pined for), and it fit our needs like no other apartment we had seen. Under the dozens of layers of paint are solid bones with a level of character you simply cannot build today.
That said, there were two issues I had to get past. First, although it was below 110th street, it was also above 89th Street, my desired northern boundary (I really had to let go of that). Second, it didn't have a separate area for me to use as a studio/workspace.
When I considered that it is only a block away from Riverside Park, and has great transit access, I let go of it's northern location. And after our second viewing, we determined that the kitchen was large enough that I could carve out an enclosed 5'x7′ corner of the kitchen as a studio/workspace and we would still have a large kitchen.
Then, only two days before we got married, we presented an offer for the apartment, and it was accepted the morning of our wedding. What a wonderful wedding gift, only we had to keep it on the down low for the day keeping the news close in, as there was still much to be worked out.
In the intervening weeks while waiting for all parties involved (the buyers (us), the seller, the selling agent, the sellers attorney, and our attorney) to finally come to agreement on terms and getting a contract prepared, we spent a lot of time dreaming about the future of our new home and what we want it to be. At the end of May we officially went into contract for our new home.
The things that attracted us to this apartment were the long entry hall, and generously proportioned rooms. But there were two glaring things that we quickly determined would need to be addressed before we could even move in. The kitchen and the bathroom.
We suspected early on that although the building converted to co-op in the 80s, this unit has always been a rental. This 1980s landlord designed kitchen all but proves it. Basically, when the apartment was cut in two, they converted one of the bedrooms to a kitchen by tapping into the bathroom wall for the sink, and piping in a gas line for the stove. (note the gas meter situated directly above the cabinets). Then they chose the cheapest least attractive cabinets laid down some peel-and-stick floor tiles and thew together an ill fitting kitchen (the refrigerator is on the other side of the room).
Fortunately, this is a fairly easy fix. We plan to have new electrical circuits wired in to bring it up to code, and add new cabinetry, quartz countertops and appliances, backsplash, paint, and that will basically be a new kitchen. Only this one will be designed (and beautiful).
As for the floor…. We know that originally back in the days when it was a bedroom, the floor was just like the rest of the apartment, inch thick quarter sawn oak parquet with mahogany inlaid border. So, we are hoping that we can just peel the tiles up and refinish the floors like the rest of the apartment with perhaps a few extra coats of poly to protect it. If it turns out the original floor is there and can be sanded, but stained due to water, we may just have it sanded and then do a painted finish. If we need to replace the whole floor…. Well, let's just hope not.
The kitchen is a room I can mostly do myself. Except where I can't. Either by limited skills, or by local code requirements. I have actually renovated a few kitchens over the years and with the exception of countertops, and installing electrical and plumbing inside the wall, I can pretty much do the rest.  But, I do know when to hire the pros for things I either do not know how to do, or because I need to follow the rules (electrical is easy, but the rules in NYC require you hire a licensed, bonded, and union electrician). Given that I don't want the liability of an error, I will let a professional do it.
The bathroom is actually in more need of attention and will most definitely require the help of a contractor. It's one thing to put tile up on a backsplash, and a whole other thing to install a shower pan and tile the walls of a bathroom to be leak free. This is not the original bathroom. I am guessing it was replaced in the late 1940s when the building was chopped up into smaller apartments. It was done at the time to attract new tenants with a newly done modern bathroom. Well, it's day is over. Yoav and I hope to make this our home for the long term which as a middle aged man means I may not want or be able to climb into a bathtub I don't use. So, instead, we plan to gut the bathroom completely, open the wall, replace all of the plumbing, add new electrical, and build a completely new bathroom with a glass enclosed walk in shower, marble floor, new toilet and pedestal sink. We want to have a modern bathroom, but at the same time honor the 100 year old space and use period materials such as, you guessed it, subway tile. Yes, the ubiquitous subway tile is both traditional, and appropriate. Besides, we can't justify the expense of putting marble four feet up the walls in the entire space.
In addition to the new kitchen and bathroom, we plan to sand and refinish the floors throughout. Better to do it now before we move anything in, than once we are already in and set up.
That pretty much sums up the list of things we feel we must accomplish before moving in. In fact, as long as the floors are complete, the bathroom is finished, and the plumbing and electrical are done in the kitchen, we should be able to move in. We can live a few weeks to a month without a complete kitchen, but we absolutely cannot do without a bathroom.
Now on to dreaming about where we want to take our home. We both see this apartment as a long term commitment and a labor of love which we will work on and restore over the years. The point of this blog is to document our process, and we hope it will be helpful to others as well.