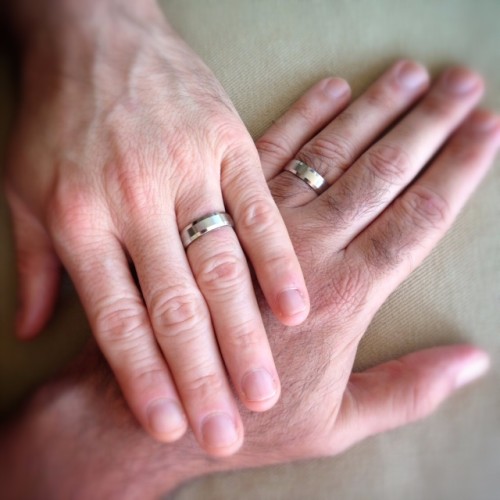 [Photo: The day after my proposal in Provincetown, MA. July 2013]
So the plan was this….
Propose to Yoav (done in July 13)
Move in together (done in Jan 14)
Sell my Hell's Kitchen apartment
Buy an apartment together to call our home.
Keep his apartment of 15 years as an investment property
And then in spring of 2015, get married
Plans change….
We were already concerned about interest rates, if they crept up, we would not be able to buy much more than a schlumpy characterless place. We were also concerned about the fact that first quarter numbers for real estate on the Upper West Side showed a 17% increase in price over last year. We could already see inventory dropping to scary lows. So, we felt a sense of urgency to take action.
The Hell's Kitchen apartment went on the market in March and in less than a week I had three offers, two of which were over ask. I very excitedly took the all cash offer that was a full 5% over ask and we set about getting a contract together. Attorneys, my real estate agent, the buyers, the managing agent, and I were suddenly thrown into the throes of selling a co-op in Manhattan (for the uninitiated, real estate transactions in Manhattan are arguably more complex than anywhere else in the US).
Twelve days after the first open house, nine days after I accepted an all cash offer 5% over my asking price, I was working from home, and the phone rang (Yoav works from home everyday, so when I work from home, we spend the day sitting about 15 feet apart faces in our computers working). It was my attorney telling me that my buyers have a deal breaker issue there will be no contract (for reasons I won't go into). My attorney is very talkative, and on our call we got to talking about next steps (it was a Friday, so we scrambled to get an open house set up for Sunday), and then we talked about Yoav's and my plan to buy our home, and after we are all settled in, start planning a wedding for next spring. My attorney then asks, "Why are you waiting to get married? It will be much easier for you two to buy your home as a married couple than as two single guys. You will also have much more credibility with a co-op board, even as newlyweds."
I hung up the phone, looked across the room at Yoav and said, "We need to get married sooner than later". To which he replied, "OK".  Suddenly, on that Friday, we were making wedding plans, the sooner the better. We had long talked about what we wanted for our wedding, something small, simple, and very New York.
Well, 27 days later, we went to the Clerks Office of the City Of New York and got our marriage certificate.
And two days after that, we had an amazing ceremony. Yoav's parents along with my parents (who flew in from California) joined about 25 friends (3 of whom flew in from around the country) in a former loft space (now photography studio) in the Flatiron District. We had a catered dinner from the Greek Kitchen (our favorite Greek food in Manhattan), a professional photographer, and plenty of wine to go around. The space was about as New York as one could hope, and as a bonus, the rear of the building had an amazing view of the Empire State Building.
So there you have it…. A Manhattan Real Estate Shotgun Wedding. All thanks to my chatty real estate attorney, and the very real concerns of having anything stand in the way of getting a great apartment, at a fair price with a low interest rate, pushed us to move our wedding plans up by a year. In the end, it was the smartest thing to do. And as a bonus, I am now happily married to my very special gem!
Oh, getting back to my apartment in Hell's Kitchen…. Two days after the second open house, I accepted an offer that was less than the previous all cash offer, but still 6k over ask. Given that I priced the place on the high end with expectation that I would get 5% less than ask, I have nothing to complain about.
Next: Have we found our Gem?