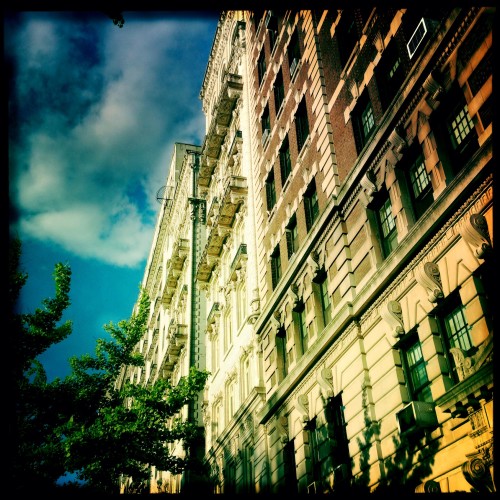 Yoav and I came to the conclusion early on (before I proposed, but after we said "I love you") that real estate was going to be a top priority early on in our relationship. We both owned our own co-ops. He bought his small one bedroom, close to Riverside Park south of 110th Street back in the late 90s. I bought my very small studio (294 sq. ft.) in a pre-war doorman building in Hell's Kitchen in 2010. It was fairly clear that we both wanted to buy a place together to make "our" home in, and not try to fit our lives into the others place (which would be impossible in my tiny studio). A place that we both love and look forward to building our future in.
Long before we had a plan or were really actually ready to take any action, we started going to open houses on Sundays for shits and giggles. We knew we needed to figure out what we wanted, and this became a sort of entertainment, poking through the homes of others to figure out if we wanted what they were letting go of.
Neighborhood was the first topic of our search. The first thing was was clear to us is that we are both West Siders. Another words, we can only be happy living on the west side of Manhattan. Not that there is anything wrong with the east side (really, it's just fine), it's just that for both of us, our lives revolve around the west side of the island.  We tend to only go to the east side when we are on a specific mission for something (such as Home Depot on Third Avenue).
Both of us had lived in the West Village in our pasts, but unless we wanted less than 500 square feet, we knew it was out of our price range. Chelsea wasn't much better, we could perhaps have 600 square feet. Yoav has lived in the Upper West Side (emphasis on Upper) for the past 15 years, and I have lived in Hell's Kitchen since 2010. We both like our respective neighborhoods and most of the area in between so it became clear that we would target the west side between 45th and 110th streets (with a special focus on the area between 73rd and 89th). This was an area where we could afford about 700 square feet (our determined minimum) in a nice building.
Our first open house actually set in place a few deciding factors which played a role in what we liked and didn't like. We walked into a small one bedroom apartment  in the back of The Alemeda (84th and Broadway) we were immediately charmed by the old world feel of the space. The original details of the apartment were intact including the 18″ tall baseboards, dentil crown molding, and tall ceilings. We immediately resonated with the space, and fell in love with the original swinging kitchen door with porthole window. But it was in the back of the building, with only a tiny sliver view of 85th street, and otherwise dark, dark, dark. Regardless, this apartment spoke to us and set the bar for the hunt of our future home.
We began to plan a couple of Sunday mornings a month around open house tours. Using StreetEasy's simple open house tool (shameless plug), we would make a list on Saturday's of where we wanted to go the next morning, and after breakfast at a local diner, we would trek about walking through other peoples homes.
Over the course of the year we went to well over 50 open houses. Our needs were simple. We wanted pre-war (preferably before WWI) one bedroom, at least 700 square feet, some type of studio/workspace where I could make a mess doing artwork, etc., and the place had to have old world charm. The older the better, the more intact the better, and we were not afraid of a fixer-upper. A doorman was not required, but certainly a nice to have.
Here were some of our favorites:
We weren't quite ready to pull the trigger yet as I still had to sell my apartment in Hell's Kitchen, and there were a few other things to work out, but in January I moved in with Yoav (after living alone for the better part of 25 years) and got my Hell's Kitchen apartment ready to list.
The Hell's Kitchen apartment got listed in March and the next phase of our future begins.